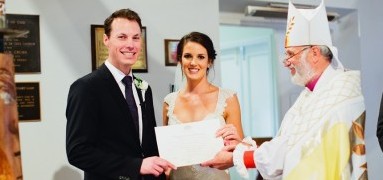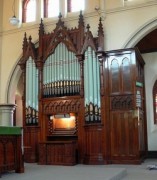 Dear Friends,
As we celebrate the Feast of St Francis I stop to remember my disastrous relationships I have had with the many animals in my life. At the beginning, aged 6, my mother arrived home with a pet rabbit which we named 'Bunny'. I was so proud of Bunny that on the first day I took him down to my best friend two doors away who immediately strangled him. I came home very confused cradling the body of this poor creature and crying as it seemed broken to me. I don't know whether Greg White was a homicidal maniac or bunny's untimely death an accident, suffice to say that this first encounter with loss and death was a trauma I have carried until this day. My parents decided to substitute Bunny with Smokey our first cat shortly afterwards but ever so sadly my father accidentally, I am sure, ran Smokey over in the driveway with the car, so more childhood trauma. This story of loss continued throughout my life with the death of Antiochus my beautiful rough collie. I had always loved Lassie on television so I bought this utterly beautiful dog which came to live with me in the Vicarage in Dandenong. The parish had tennis courts at the back of the house and people were always leaving the gate open – yes, you guessed it – during dinner one night I heard a thump out in the street and there was Antiochus dead in the road. I was truly bereft.
It's not all sad though, this beautiful dog was replaced by Kaiser who was a cross between a Labrador and Newfoundland and he bought much joy and companionship for nearly 20 years. The day he died I thought it was the end – I cried for months. That was the end of dogs in my life, sadly. There was much bliss with Montazooma the Siamese cat for 19 years and the current monarch of the house, Bella, also a Siamese cat.
Animals can bring us so very much, companionship, love, joy and then sadness. Bella actually makes more sense than some of the people I have met and is a constant comfort. It is hard for me to believe that animals are not part or even proof of the divine plan for the world and today especially we give thanks to God for them as we rejoice in all they bring to us.
Maybe pause today and remember with happiness and thanksgiving all the little animals that have been part of your life as you thank God for them and for the ones you currently treasure.
GRANT.
Readings:  Genesis 1.24-31; Ps 137; Galatians 6.14-18; Matthew 11.25-30.
Praying for the Community
For all members of our community, especially all who live and work in Albert Street and for the Staff, patients and chaplains at St Vincent's Mercy Private Hospital.  In our Parish community we pray for our organist and cantors.
Praying for those in need
(Randy, Ron and Miles) Gytha, Karin, Julie, Paul, Jeffrey, John, Mark, Lindsay, Lionel, Patrick, Barbara, Kate, Clare, Jeff, Neil, Tony, Terry and Richard, Caitlin, Alan, Jean, Luke and Bodhi, Harold, Elaine, Barney, Lyn, Eva.
Anniversaries Oct 6 Constance Mary Tonkin (1982) Oct 7 Florence Anderson (1937) Oct 9 Samuel James Shearer (1966) Oct 10 John Thomas Ferguson (1966) Oct 11 Dorothy May Bickerdike (2011) Oct 12 Benjamin Gibbons (1949) Oct 12 Lily Matilda Gibson (1968)
NOTICES
SUNDAY we celebrate the Feast of St Francis of Assisi who amongst other things is the Patron Saint of animals. We will ask for a gold coin (or other donation) as a retiring collection to be donated to the Lort Smith Animal Hospital.
PLAYGROUP Term 4 commences next Wednesday 9th October.
OUR THANKS – to Greg and Vicki for all the maintenance works they have carried out around the church – very much appreciated.
PARISH LUNCH – Please put Sunday October 27th in your diaries as not only is it the Parish Luncheon but a very special one as we celebrate Jean's 80th birthday. A fortnight later we will gather in church for Jean to celebrate the Eucharist for us as she formally 'retires' from weekly involvement in our liturgy.  Jean has had an extraordinary ministry and we give thanks to God for that as we celebrate this on that day. This will be 10 am on November 10th. Please try to join us for both significant days in the life of our parish.
FOURTH THURSDAY BOOK CAFÉ – a small but happy group attended our Book Café last week with lots of chatting and laughs while enjoying the usual delicious afternoon tea.   Please note our next Book Café will be held on Thursday 24th October, not the last Thursday of the month.
Worship at Holy Trinity each week
Sunday: 8am Eucharist; 10am Sung Eucharist and Morning Tea
Tuesdays at 5.30pm Christian Meditation Group
Wednesdays at 10am Eucharist followed by Morning Tea
On the First Wednesday of the month the 10am Eucharist has an emphasis on healing with the opportunity of anointing.
On the Second Wednesday of each month the 10am Eucharist is held at Mercy Place Aged Care Facility East Melbourne
On the Third Wednesday of each month a 1.30pm Eucharist is held at Highgrove Aged Care Facility Kew
Thursdays at 8.30am Morning Prayer and scripture readings followed by Meditation at 8.45am.
Wednesdays Playgroup 9.30am – 11am (during school terms)
Parish Contacts
Vicar:  The Rev'd Grant Edgcumbe 193 Hotham Street East Melbourne
T: 9417 3341
Hon Associate Priest: The Rev'd Jean Penman AM T: 9457 7328,
Website: www.holytrinitymelbourne.org.au Email: office@holytrinitymelbourne.org.au
Vicar's Warden: Laurie Moore T: 9481-7335
People's Wardens:  Lynne Mitchell T:0412592005;
Sue Moses-Critchley 9486 3598
---

---
---