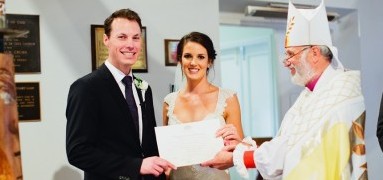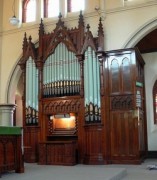 Dear friends,
It is with great joy that we welcome Clem and Stuart Taplin this coming Sunday to our worship with a special welcome to Clem as she preaches for us. This Sunday is the birthday of the parish in a way as we come together to rejoice in the fellowship of this parish and the whole church.
The distressing footage on our televisions during the week of nearly a million people in the streets of Hong Kong protesting against an increasingly menacing China reminds us how very fragile freedom can be. These protesters went on to the streets with the anniversary of the Tiananmen massacre still hot in their minds and with the distinct possibility of something similar happening in Hong Kong. How fortunate we are here that such oppressions and tyrannies do not exist. Whilst giving thanks we do remind ourselves that the 'the price of freedom is eternal vigilance' as Wendell Philips put it so long ago. Central to this freedom of ours is a free and open press that without fear or favour reports on matters that we sometimes don't like or not agree with. China and its satellites have no such freedoms and many citizens have no idea what their government does and some of their citizens just disappear if they rock the boat. Give thanks today for our freedom as we pray for the people of Hong Kong, Taiwan and China and anywhere else where there is tyranny.
Happy Feast Day.
Grant.
 Readings: Trinity Sunday Proverbs 8.1-4, 22-31; Ps 8; Romans 5.1-5; John 16.25-33.
 Praying for the Community
For all members of our community, especially all who live and work in Clarendon Street and for the clergy and people of St Nicholas' Antiochian Church.  In our parish we pray for the parish administrators.
Praying for those in need
Edie, (Randy, Ron and Miles) Gytha, Karin, Julie, Paul, Jeffrey, John, Mark, Lindsay, Richard, Melissa, Lionel, Patrick, Barbara, Kate, Clare, Rebecca, Susan, Jeff, Neil, Tony, Terry and Richard, Caitlin, Alan, Luke and Bodhi, Marga, Betty, Harold.
Anniversaries June 17th Margaret Grace Wray (1967) June 17th Edith Powell (1969) June 18th Ernest Edward Delzoppo (1985) June 19th John Lawrence Bennett (1977) June 20th Margaret Mary Witt (1964) June 20th William George McKinnon (1993) June 22nd Philippa Bannister (2010) June 22nd Rupert Andrew Loughnan (1965)
Recent deaths Mick Nunn; Michael Jasper Batson.
NOTICES
Sincere thanks to Laurie and all who have given time for our 'pop-up' choir for Sunday's service.
There will be no Morning Prayer or meditation on Thursday June 20th. All back to usual the following week.

Jesus was a healer – by Les Murray
Jesus was a healer
never turned a patient down
Never charged coin or conversion
started off with dust and spittle
 then re-tuned lives to pattern
simply by his attention
 often surprised himself a little
by his unbounded ability.
Jesus was a healer
Reattached his captor's ear
 Opened senses, unjammed cripples
Sent pigs to drown delirium'
 cured a shy tug at his hem
learned to transmit resurrection
 could have stood more Thank You
for God's sake, which was his own
Jesus was a healer
Keep this quiet, he would mutter
 to his learners.  Copy me
and they did to a degree
 still depicted on church walls
cure without treatment or rehearsals.
---
Worship at Holy Trinity each week
Sunday: 8am Eucharist; 10am Sung Eucharist and Morning Tea
Tuesdays at 5.30pm Christian Meditation Group
Wednesdays at 10am Eucharist followed by Morning Tea
Thursdays at 8.30am Morning Prayer and scripture readings followed by Meditation at 8.45am.
On the First Wednesday of the month the 10am Eucharist has an emphasis on healing with the opportunity of anointing. On the Second Wednesday of each month the 10am Eucharist is held at Mercy Place Aged Care Facility
On the Third Wednesday of each month a 1.30pm Eucharist is held at Highgrove Aged Care Facility
Wednesdays Playgroup 9.30am – 11am (during school terms) 
Parish Contacts
Vicar:  The Rev'd Grant Edgcumbe 193 Hotham Street East Melbourne T: 9417 3341
Website: www.holytrinitymelbourne.org.au Email: office@holytrinitymelbourne.org.au
Hon Associate Priest: The Rev'd Jean Penman AM T: 9457 7328,
Vicar's Warden: Laurie Moore T: 9481-7335
People's Wardens:  Lynne Mitchell T:0412592005; Sue Moses-Critchley 9486 3598
---

---
---