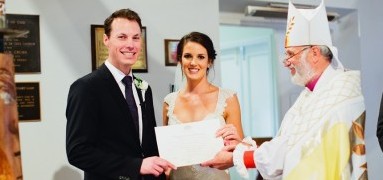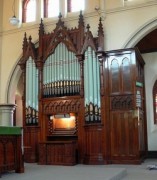 Dear friends,
Firstly some thank you's. My sincere  thanks to all who worked so hard to make our Christmas celebrations so excellent – to Lyn who printed the many orders of service, to Laurie and Peter who provided our fabulous music, to the Servers, sidespeople and flower donors and everyone who attended – my thanks.  Thanks too to all the generous people who showered gifts on me – I feel very spoiled and special.
We need to have a discussion about our Christmas services – the 6 pm Carol Service was very well attended so we need to build on that next year. Midnight Mass may have had its day with fewer and fewer people attending.  I wonder if we need to consider still having that night service but moving it to 9 or 9:30 pm like some other churches have done. I would value your opinions on this. Christmas Day services had similar numbers to previous years attending which was good. All in all Christmas was pretty marvellous and I thank you for that.
January is nearly upon us and I think it is my favourite time of year as the weather is warm, people seem to be more relaxed and you can drive to some places without wanting to tear your hair out.
We turn our attention now to the Book Fair being held in February as we ask that pre loved books be left on the verandah of the parish centre at 193 Hotham Street. The date of the Fair is the weekend of February 17 and 18.
May I wish all of us a Happy, safe and prosperous 2018.
With every thanks and blessing
Grant.
Readings this Sunday: Isaiah 61.10-62.3; Ps 148; Galatians 4.4-7; Luke 2.22-40.
Praying for the Community
For all members of our community especially all who live and work in George Street, and for our elected representatives in Local Government, State, Federal Parliaments.  In our Parish we pray for our Book Fair organisers.
Pray for all who travel over this Christmas and holiday season,

Anniversaries this week

Dec 31 Rita Frances Lister (2000) Jan1  Isabella Crossley (1935) Jan 1 Harry Saxon (1995) Jan3 William Henry Trevaud Pullen (1976) Jan3 Cecil John Jackson (1990)
Jan 4 Helen Emily Reddy (1974) Jan 4 Annie Jean Marr (2012) Jan 5 Shan (Shanti) Diyal (2006) Jan 6 Fred Baker (1946) Jan 6 Felix Ravenel Dupas (1962)
NOTICES
THE CHURCH will be closed all day on New Year's Day.  Any inconvenience is regretted.
MORNING PRAYER will not be held this Thursday 4th January,
HOLY TRINITY BOOK FAIR The Book Fair will be held on the weekend of 17th and 18th February 2018.  Preloved books can be left on the Parish Centre Verandah, 193 Hotham Street East Melbourne.
FLOWER ROSTER The flower roster for 2018 will be on the board next week.  If you wish to secure a date for memorial or other flowers please do so.  We are happy to report that flowers were gifted for most weeks during 2017.  Thank you all very much.  Also if you would like to assist with arranging flowers during the year, all help will be gratefully received.
ST MARK'S FOOD Sincere thanks to all who have contributed to the appeal for food, toiletries, etc during the year and a very big thank you to Fr Grant for delivering many car boots full across to St Marks.  From now until the end of January please bring

NON-PERISHABLE

items only please.
MEDITATION is in recess and will recommence on Tuesday 6th February at 5.30pm.
The services at Mercy Aged Care and Highgrove will recommence in February.
---
---
Worship at Holy Trinity each week
Sunday 8am Eucharist
10am Sung Eucharist and Morning Tea
Tuesdays at 5.30pm Christian Meditation Group
Wednesdays at 10am Eucharist followed by Morning Tea On the Second Wednesday of each month the 10am Eucharist is held at Mercy Place Aged Care Facility
Wednesdays Playgroup 9.30am – 11am (during school terms)
Parish contacts:
Vicar:  The Rev'd Grant Edgcumbe
193 Hotham Street East Melbourne  T: 9417 3341
Hon Associate Priest: The Rev'd Jean Penman AM  T: 9457 7328,
Vicar's Warden: Sue Moses-Critchley
People's Wardens:  Nola Hatton T: 9589 0646; Lynne Mitchell T: 9419 7771