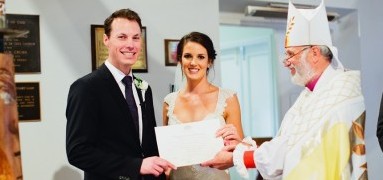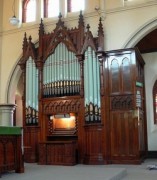 FROM THE VICAR
Dear Friends
What a wonderful Christmas at Holy Trinity! The flowers were stunning, the singing was great, the many gifts and cards given to me are very much appreciated (although still no Meccano) and the attendances at all services were increased. The experiment of a 9 pm on Christmas Eve seems to have been a great success with many more people attending than at any midnight service I have been here for. The Carol service was also well attended but looking forward to next year I am hoping we can conclude that service with a sausage sizzle for families – I am hoping we can find a donor who could donate the sausages for this?
All in all it has been marvellous and my thanks to so many who worked so hard to make our liturgies so uplifting: to Laurie for the music – Laurie attended and played at all the Christmas services, to Jean and Peter who celebrated a service each, to Chris for the flowers and those who donated to pay for them, to those who poured tea and coffee, to Lyn who printed and co ordinated the seemingly endless number of pew sheets and orders of service, to the readers and sidespeople, to Alisa who sang us into Once in Royal David's city – twice.
Every service was wonderful and I thank you all for being part of it. So we look forward now to a New Year with all the potential that comes with it – maybe Meccano in 2019.
Thanks and blessings.
Grant.
Ed: Those who did not hear Grant's Christmas sermon need to know that one of the biggest disappointments in his childhood related to a meccano set!!!)
Readings on Sunday: Samuel 2.18-20,26; Ps 148; Colossians 3.12-17; Luke 2.41-52.
Praying for the Community
For all members of our community, especially all who live and work in Agnes Street and for staff, patients and chaplains at Epworth Freemasons Hospital.  In our Parish we pray for our readers and intercessors.
Praying for those in need
Edie, (Randy, Ron and Miles) Gytha, Karin, Joan, Julie, Ian, Paul, Jeffrey, John, Mark, Suzanne, Wilma, Lindsay, Richard, Melissa, Lionel, Ann,  Patrick, Barbara, Kate, Clare, Fiona, Rebecca, Susan, Jeff, Neil, Tony, Terry and Richard, Jennie, Margaret, Bruce.
For those who mourn
Fr John and the Stewart family
Pray for all who travel over the Christmas Season.
Anniversaries Dec 30 William Hopton Anderson (1975) Dec 31 Rita Frances Lister (2000) Jan 1  Isabella Millar Crossley (1935) Jan 1  Harry Saxon (1995) Jan 3  William Henry Trevaud Pullen (1976) Jan 3 Cecil John Jackson (1990) Jan 4 Helen Emily Reddy (1974) Jan 4 Annie Jean Marr (2012) Jan 5 Shan Diyal (2006)
Recent deaths   Ann Stewart
NOTICES
ST MARK'S FOOD Sincere thanks to all who have contributed to the appeal for food, toiletries, etc during the year and a very big thank you to Fr Grant for delivering many car boots full across to St Marks.  From now until the end of January please bring NON-PERISHABLE items only please.
NATIVITY SETTING Silent Auction – This raised $80.00 towards the refurbishment of the church gardens.   We thank the parishioner who donated the setting and Pat who purchased it.
FLOWERS – The flower roster up to and including Easter is on the board.  If you wish to secure a date for memorial or other flowers please do so.      Also if you would like to assist with arranging flowers during the year, all help will be gratefully received.
---
Worship at Holy Trinity each week
Sunday: 8am Eucharist; 10am Sung Eucharist and Morning Tea
Tuesdays at 5.30pm Christian Meditation Group
Wednesdays at 10am Eucharist followed by Morning Tea
Thursdays at 8.30am Morning Prayer and scripture readings followed by Meditation at 8.45am.
On the First Wednesday of the month the 10am Eucharist has an emphasis on healing with the opportunity of anointing.
On the Second Wednesday of each month the 10am Eucharist is held at Mercy Place Aged Care Facility
On the Third Wednesday of each month a 1.30pm Eucharist is held at Highgrove Aged Care Facility
Wednesdays Playgroup 9.30am – 11am (during school terms)
Parish Contacts
Vicar:  The Rev'd Grant Edgcumbe 193 Hotham Street East Melbourne
T: 9417 3341
Website: www.holytrinitymelbourne.org.au Email: office@holytrinitymelbourne.org.au
Hon Associate Priest: The Rev'd Jean Penman AM T: 9457 7328,

---
---