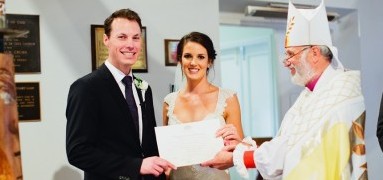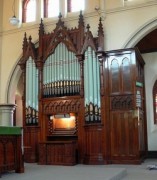 PLEASE NOTE THIS SUNDAY 17th MARCH, THERE WILL NOT BE AN 8AM SERVICE.  PLEASE JOIN US AT 10AM FOR OUR SUNG EUCHARIST FOLLOWED BY MORNING TEA,
Dear friends,
Let me introduce you to the Reverend George Harvest, Rector of Thomas Dutton known as the 'most forgetful man in England'. Apparently George was so forgetful that the day of his wedding to the Bishop's daughter he instead of preparing for the wedding was struck with a desire to catch gudgeons so packed up his rods and reels and set off as the Bishop and bridal party attended the church. The Bishop was furious and the weeping bride ensured that preferment in the church was cancelled.
So vague was this man that parishioners regularly interspersed the notes of his sermons with extraneous pages which the hapless George just blithely read out much to the offence of some of the more sensitive ladies of the parish. One day whilst hearing a great noise in the church whilst he was lumbering around the church yard he raced home to get his shot gun. The parishioners were most surprised to be confronted by their armed Vicar when he should have been there conducting Holy service.
So, this is very encouraging to all other clergy for when we forget the odd name or part of the service we can look to George whose eccentricity took things to another level altogether.
Grant. 
Readings Lent 2: Genesis 15.1-12,17-18, Ps 27; Philippians 3.17-4.1; Luke 9.1-9
Praying for the Community
For all members of our community, especially all who live and work in Hoddle Street and for the clergy and people of the member churches of Melbourne City Churches in Action.
Praying for those in need
Edie, (Randy, Ron and Miles) Gytha, Karin, Julie,  Paul, Jeffrey, John, Mark, Lindsay, Richard, Melissa, Lionel, Patrick, Barbara, Kate, Clare,  Rebecca, Susan, Jeff, Neil, Tony,  Terry and Richard, Prue.
Anniversaries March 17 Roy Kermode (2014) March 17 Hubert Smith (1996) March 17 Esme Wood (1996) March 18 Evelyn Matthew (2008) March 18 Arthur Wilson (1991) March 18 Frank Forster (1995) March 19 William Clendenin (1992) March 21 Doris Wright (1952) March 22 Irene Coral Petrie (1986) March 23 Arthur Williams (1964)
NOTICES
There will be no 8 am services on the following Sundays – March  17 and 24 -  resuming on Sunday March 31.
Thursday Morning Prayer and Meditation will not be held on the following Thursdays – 21st March and 28th March.
CHORAL EVENSONG – Laurie, representing the Wardens, Julia, representing the Parish Council and five parishioners enjoyed the Choral Evensong at St Paul's Cathedral on Tuesday evening when special prayers were offered for Holy Trinity and Fr Grant.
CALLING ALL BISCUIT BAKERS – Are you able to assist? Prison Fellowship Australia has issued a challenge for 85,000 homemade biscuits to be delivered in packs of 10 to prisoners in Victoria this Easter.  Details are on the Noticeboard in the Macbean Room and a copy of the flier attached to the Hotline.  For further enquiries speak to Jim Lewis.
FETE –Saturday 6th April 10am – 4pm At Holy Trinity Church – jams, bric-a-brac, baked goods, books, silent auction.  Refreshments available.  All funds support renovation of the Memorial Garden.  Enquiries Ray or Laurie.
SAUSAGE SIZZLES – It's that time of the year again.  The season begins on March 21 and the first roster is on the Board – there are a few gaps so if you can assist please let us know.
PALM SUNDAY AND HOLY WEEK SERVICES
PALM SUNDAY: April 14
8am Eucharist
10am Sung Eucharist.  The 10am Eucharist will commence in the Fitzroy Gardens and proceed to the Church.  We gather in the gardens at the Hotham Street entrance.
WEDNESDAY:  April 17
10am Eucharist
MAUNDY THURSDAY:  April 18
Eucharist and foot washing – 7pm
GOOD FRIDAY: April 19 – Way of Cross Walk – commences at St Francis' Church Lonsdale Street at 10am.
GOOD FRIDAY: April 19th –Liturgy  2pm
EASTER DAY:   April 21
6am – Easter Vigil and Lighting of the New Fire
10am – Sung Eucharist.
---
Worship at Holy Trinity each week
Sunday: 8am Eucharist; 10am Sung Eucharist and Morning Tea
Tuesdays at 5.30pm Christian Meditation Group
Wednesdays at 10am Eucharist followed by Morning Tea
Thursdays at 8.30am Morning Prayer and scripture readings followed by Meditation at 8.45am.
On the First Wednesday of the month the 10am Eucharist has an emphasis on healing with the opportunity of anointing.
On the Second Wednesday of each month the 10am Eucharist is held at Mercy Place Aged Care Facility
On the Third Wednesday of each month a 1.30pm Eucharist is held at Highgrove Aged Care Facility
Wednesdays Playgroup 9.30am – 11am (during school terms) 
Parish Contacts
Vicar:  The Rev'd Grant Edgcumbe 193 Hotham Street East Melbourne T: 9417 3341
Website: www.holytrinitymelbourne.org.au Email: office@holytrinitymelbourne.org.au
Hon Associate Priest: The Rev'd Jean Penman AM T: 9457 7328,
Vicar's Warden: Laurie Moore T: 9481-7335
People's Wardens:  Lynne Mitchell T:0412592005; Sue Moses-Critchley 9486 3598
---

---
---