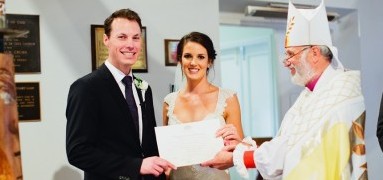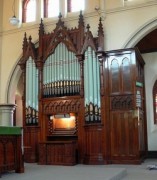 ORGAN RECITAL – RYOKO MORI
SUNDAY 7th October at 2pm in the church, there will be an Organ Recital by Ryoko Mori featuring works by Georg Muffat, Buxehude, Mendelssohn & others. $25/$20. Afternoon tea provided.
For more information click on the following link    Ryoko 2018
FROM THE VICAR
Anglo-Celts are warned the following may contain content that could offend!
Dear Friends,
When I was the Vicar in Mount Waverley 20 or so years ago I used to warn on occasion that I thought the barbarians were at the gates – well, a recent visit to one of Melbourne's historic theatres for a performance has relieved me of that view – there are no gates any more. The barbarians have broken down the walls, trampled the gates and have overrun everything.
On assuming my seat in the auditorium I am assailed by flashes from mobile phones as people take 'selfies' and pics of each other – the elderly trio in the row immediately in front of me were so unacquainted with the technology in their hands that they had to ask me to take their picture – the look on face adequately revealed to them that they would fare better consulting their apple instruction manual. Even when the performance began the glow of telephone screens was evident all over the theatre. Dress – I am amazed that Melbourne has this week called 'Fashion week' as most of my fellow theatre goers had never heard of 'fashion'. It seemed to me as if we had gone back to cave dwelling times when people had no choice as to the skins they wore but were limited to that which had been caught the week before. There was not a high heel in the entire house. Then………… Interval.
This tsunami of bogans rushed from their seats up the aisle whilst the performers were still singing presumably to gain first spot in that increasingly central habit of Australian life – eating and drinking. This made all the more remarkable by the fact that most of them could have gone for months without sustenance of any kind as they had more than ample reserves – a fact that is probably intimately connected with their 'fashion.' As this wave of humanity ebbed back into the theatre they came laden with drinks, food, ice creams and the like so that the second half of the performance was punctuated with the sound of loud chewing and slurping.
All was not lost – the performance was magnificent but I yearn for the days when audiences accord a little respect to the august institution of theatre and take a little more pride in their dress and their behaviour. 
Grant.
Praying for the Community
For all members of our community, especially all who live and work in George Street and for our elected representatives in Local, State and Federal Governments.  In our parish we pray for our morning tea providers.
Praying for those in need
Edie, (Randy, Ron and Miles) Gytha, Karin, Joan, Julie, Ian, Paul, Jeffrey, John, Mark, Suzanne, Wilma, Lindsay, Richard, Melissa, Lionel, Ann,  Patrick. Barbara, Kate, Clare, Fiona, Rebecca, Susan, Jeff, Neil, Terry and Richard.
Anniversaries Sept 30 Alice Griffiths (1961) Oct 1  Abp David Penman (1987) Oct 2 Norman Reginald Sevior (1968) Oct 2 Neville Harry Fitts (1993) Oct 3 William Thomas Flowers (1966) Oct 6 Constance Mary Tonkin (1982)
Recent deaths John Michael Rowley,  Morna Sturrock
NOTICES
SUNDAY 7th October we will celebrate the Feast of St Francis of Assisi who amongst other things is the Patron Saint of animals. So on that day please feel free to bring your pet to church for a blessing. Dogs on leashes, cats in cages, etc. would be great.
SUNDAY 7th October at 2pm in the church, there will be an Organ Recital by Ryoko Mori featuring works by Georg Muffat, Buxehude, Mendelssohn & ors. $25/$20. Afternoon tea provided.
INTERCESSIONS: It is a joyful duty to pray for others especially those who are most in need of our prayers. The list of names on our intercession list is now quite lengthy so if there are any names on the list of people that no longer need our prayers could you please remove them. Many thanks.
WORKING BEE: Please put aside Saturday October 6th for a Parish Working Bee beginning at 10:00am. Please give us at least an hour of your time as many hands make light work.
EAST MELBOURNE SINGERS will be in recess until October 17th.
PLAYGROUP is in recess until term 4 begins on 10th October.
GREAT NEWS! Sunday December 16th we will be welcoming Bishop Genieve for a Confirmation Service, so there will be no 8 o'clock on that day. At present we have one candidate for confirmation if there are any others please see the Vicar.
At the last Parish Council meeting it was decided to move our Christmas Eve Midnight Mass to 9 pm in the hope that this might be a more attractive time for people. Apparently St Patricks have done this for the last few years. Could you please start letting this be known throughout the community please.

---
---
Worship at Holy Trinity each week
Sunday 8am Eucharist
10am Sung Eucharist and Morning Tea
Tuesdays at 5.30pm Christian Meditation Group
Wednesdays at 10am Eucharist followed by Morning Tea.
On the First Wednesday of  the month the 10am Eucharist  incorporates the Order of St Luke healing service.
On the Second Wednesday of each month the 10am Eucharist is held at Mercy Place Aged Care Facility
Wednesdays Playgroup 9.30am – 11am (during school terms)
Parish contacts:
Vicar:  The Rev'd Grant Edgcumbe
193 Hotham Street East Melbourne  T: 9417 3341
Hon Associate Priest: The Rev'd Jean Penman AM  T: 9457 7328,
Vicar's Warden: Sue Moses-Critchley
People's Wardens:  Nola Hatton T: 9589 0646; Lynne Mitchell T: 9419 7771