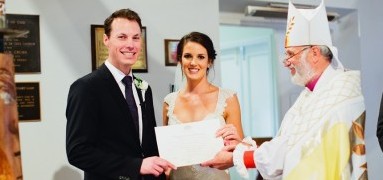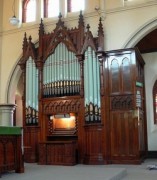 FROM THE VICAR
Dear Friends,
For most of my ministry at various times people have been kind enough to point out to me that 'religion and politics don't mix, Vicar' and 'there is no place in the church for politics'. On closer inspection of these statements I have usually found that the people making them have really meant, 'your politics and my politics don't mix Vicar' or there is no room in the church for politics that are not mine. We as Australians have had this curious aversion to discussing politics in polite company and especially in the church. Curious then that this morning's gospel, nearly the beginning of Luke's story of Jesus, that eight politicians are mentioned by name (two names are of the high priests who were politicians in my view). I know this is an attempt to root the story in its historical context but one or two politicians named could easily have done this. I think St.Luke is telling us that politics is important in the Jesus narrative and that as Christians we should be paying attention to politics. I don't think it is a very big stretch to make the statement that politics in this country has seen greater days and I wonder if some of the reason for their pallid state is that too few people take an avid interest in the process. I have always wondered why Australia has never had a Christian Democrat Party or the like and given the current antithesis to religion I guess we will have to content ourselves with trying to influence the current parties inadequate as they seem to be.
Politics are there in the gospel and grubby and horrible as they seem to be I think we are called to take an interest if not an active part in what is after all the mechanism that makes so many decisions that affect the daily lives of each citizen.
I won't any time soon be telling anyone how to vote.
Grant.
Praying for the Community
For all members of our community, especially all who live and work in Victoria Parade and for all who work and travel on our Public Transport.  In our Parish we pray for our sidespersons.
Praying for those in need
Edie, (Randy, Ron and Miles) Gytha, Karin, Joan, Julie, Ian, Paul, Jeffrey, John, Mark, Suzanne, Wilma, Lindsay, Richard, Melissa, Lionel, Ann,  Patrick, Barbara, Kate, Clare, Fiona, Rebecca, Susan, Jeff, Neil, Tony, Terry and Richard, Jennie, Margaret, Bruce, Dorothy.
For those who mourn:     Val and family,  The Baldwin Family. 
Anniversaries Dec 10  John Leonard Marr (1989) Dec 10  Constance Neil Callanan (1965) Dec 11  Clarice Irene Philpott (1972) Dec 11  Edward Clifford Hilliard (1993) Dec 12  Noel Delbridge, priest (2017) Dec 14  Helen Margaret Wreford (1996)
Recent deaths Peter Cotton Joan Baldwin.
NOTICES
TODAY in your pews you will find envelopes for the Christmas Bowl Appeal. On Christmas day in 1949, the Reverend Frank Byatt placed an empty bowl on the dinner table and asked those present to give what they considered to be the cost of the meal. Frank urged his guests to reflect on their good fortunes and encouraged them to do something selfless to bring relief and hope to refugees who had fled the horrors of World War II. For the 2,000 churches from 19 denominations who now take part each year, it is an essential part of our Christmas celebrations.
CHRISTMAS MINI MARKET –  in the Macbean Room the Mini Market and Hamper Raffle and the Raffle for the Christmas pudding continue. 
NATIVITY SETTING Silent Auction – There is a wonderful Nativity setting on display for sale by silent auction with the proceeds going to the refurbishment of the church gardens.  This lovely setting is over 60 years old and has been donated by a parishioner.
ST MARK'S FOOD – from now until end of January please bring NON PERISHABLE foods only,
SERVICE TIMES:  PLEASE NOTE Sunday December 16th there will not be an 8 o'clock service as Bishop Genieve will be here at 10am.
There will not be a 10am Eucharist on Wednesday 26th December.
Tuesday 5.30pm Christian meditation group ends on 11 December 2018 and recommences on Tuesday 15 January 2019
CELEBRATE CHRISTMAS WITH US
     At Holy Trinity Church
Sunday 23rd December  6pm Carol Service
Monday 24th December 9pm First Eucharist of Christmas with Carols (replacing midnight mass)
Tuesday 25th December 8am Eucharist with Carols
Tuesday 25th December 10am Eucharist with Carols.
---
Worship at Holy Trinity each week
Sunday: 8am Eucharist; 10am Sung Eucharist and Morning Tea
Tuesdays at 5.30pm Christian Meditation Group
Wednesdays at 10am Eucharist followed by Morning Tea
Thursdays at 8.30am Morning Prayer and scripture readings followed by Meditation at 8.45am.
On the First Wednesday of the month the 10am Eucharist has an emphasis on healing with the opportunity of anointing.
On the Second Wednesday of each month the 10am Eucharist is held at Mercy Place Aged Care Facility
On the Third Wednesday of each month a 1.30pm Eucharist is held at Highgrove Aged Care Facility
Wednesdays Playgroup 9.30am – 11am (during school terms)
Parish Contacts
Vicar:  The Rev'd Grant Edgcumbe 193 Hotham Street East Melbourne
T: 9417 3341
Website: www.holytrinitymelbourne.org.au Email: office@holytrinitymelbourne.org.au
Hon Associate Priest: The Rev'd Jean Penman AM T: 9457 7328,

---
---