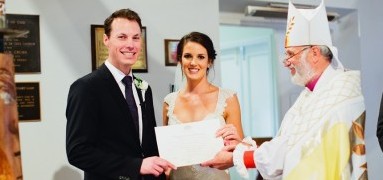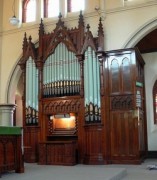 ---
---
Dear Friends,
"All homosexuals are going to hell!"
This is the assertion of Mr Israel Folau. I am not certain what theological qualifications Mr Folau has but this consignment of what is popularly held as about 10% of the population makes hell appear quite a large place.
There are a few things to say about this: firstly, much as I disagree with Mr Folau's theological commentary on sexuality, I defend implicitly his right to express an opinion. The reaction from some to his opinion is draconian to say the least and I hope all of us believe he has the right to express these things. Political correctness has gone too far.
I find it unfortunate that his opinion is being linked to ALL Christians and in the minds of many we all think this way. Well, the sad thing about the media is the lack of examination and analysis when it comes to statements of this nature. The media recognise the sensational nature of these pronouncements and report it accordingly.
The God I know is a God of love, forgiveness and compassion not the God of judgement and condemnation. The God I know is large, big, huge. Let us pray that we are not all tarred with the Folau brush but continue to proclaim the hope and wonder of our God for all people. One last thing to add – I would be very interested to hear Mr Folau's theological interpretation of John 12:44 ff.
After all: Christ is Risen – He is Risen indeed!!!!!!
Grant.
Praying for the Community
For all members of our community, especially all who live and work in Clarendon St, and for St Nicholas' Antiochian  Church.  In our Parish family we pray for our readers and intercessors.
Praying for those in need
Edie, (Randy, Ron and Miles) Gytha, Karin, Joan, Julie, Ian, Paul, Jeffrey, John, Mark, Suzanne, Tony, Wilma, Lindsay, Richard, Melissa, Lionel, Jenny, Ann, Phil, Elizabeth, Betty S. 
Anniversaries this week
April 22 Lenard John Dooling (1971); April 25 Arthur M. Pearce (1915); April 25 Joyce Chun-Linn (1882);
April 26 Maitland Searles (1964); April 26 Jane Hopkins (1972); April 26 Dennis Franklin Jan (1997);
April 27 Kenneth Athol Quick (1969); April 28 Janet Marion Clarke (1909)
THERE IS NO 10am WEDNESDAY SERVICE ON THE 25th APRIL
NOTICES
Sausage Sizzles – The games commencing Saturday April 21 are now on the noticeboard in the Macbean Room.  If you can help with preparation, cooking, serving or acting as treasurer, please fill in your name in the appropriate position.  ANZAC Day 25th April is usually our biggest day of the season so some extra help then would be appreciated.  Any queries contact Rob or Lynne Mitchell. 
PARISH LUNCH 29TH April – there is a list on the notice board in the MacBean Room.  To facilitate the setting up of tables and chairs would you please indicate if you are attending. Thank you.  BYO food/drink to share.
CANTERBURY FELLOWSHIP SERVICE 22nd April at 3pm.  This will be Choral Eucharist sung by members of the Canterbury Fellowship.  All welcome
BIBLICAL VALUES – What are they? Who decides? Are they still relevant in the modern world?  We often hear terms like "the Bible says" or "the bible teaches". In this highly relevant seminar, Professor John Collins (Yale Divinity School) will explore the basic questions in regard to, what we call, biblical values.  TUESDAY 15 MAY 2018 7.30-9.00PM Trinity College Parkville. Further information on notice board.
---
---
Worship at Holy Trinity each week
THERE IS NO 10am WEDNESDAY SERVICE ON THE 25th APRIL
Sunday 8am Eucharist
10am Sung Eucharist and Morning Tea
Tuesdays at 5.30pm Christian Meditation Group
Wednesdays at 10am Eucharist followed by Morning Tea On the Second Wednesday of each month the 10am Eucharist is held at Mercy Place Aged Care Facility
Wednesdays Playgroup 9.30am – 11am (during school terms)
Parish contacts:
Vicar:  The Rev'd Grant Edgcumbe
193 Hotham Street East Melbourne  T: 9417 3341
Hon Associate Priest: The Rev'd Jean Penman AM  T: 9457 7328,
Vicar's Warden: Sue Moses-Critchley
People's Wardens:  Nola Hatton T: 9589 0646; Lynne Mitchell T: 9419 7771