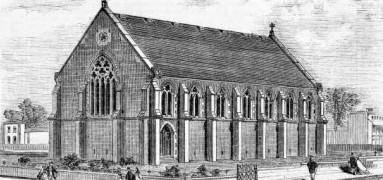 Save Holy TrinityLearn more
---
Latest News
HOTLINE

Dear Friends,

I wonder if in the quickly and constantly changing world in which we live you could name a thing or a person who has been constant in your life. I attempted this exercise during the week and was reminded that both my parents are dead, my brother is dead, countless Prime Ministers have come and gone, Myers has changed, Buckley's have gone, Coles cafe has gone, even Eric Pearce has left us.  But there is one person who has been constant in my life not with enormous influence or power over my destiny but there nonetheless. Elizabeth the second has been Monarch and our Head of State all my life. I think it safe to say that I have been privileged to live my entire life in the second Elizabethan age, which in some ways, like the first has been glorious in so many aspects.

This weekend we enjoy a holiday to celebrate the 'Monarch's Birthday' and in so doing perhaps we might pause to give thanks for the devotion, diligence, perseverance, hard work and wisdom of Her Majesty the Queen. Some argue that in this age the Monarchy is an anachronism and perhaps for Australia it is by now. Having said that, I believe that the world may well be a different place had it not enjoyed the quiet counsel of Queen Elizabeth. So three cheers today for the Queen, long may she continue to reign even if she ceases to be our Head of State.

Grant. 

Readings this Sunday: 1Kings 21.1-21a; Ps 5 1-7; Galatians 2.15-21;Luke 7.36 – 8.3.

 

NOTICES

UPCOMING CONCERTS: On Sunday 19th June at 3pm in the Church, Trio Anima Mundi will present the first of three concerts to be held here.  This first concert will contain works by Albert Dietrich, Robert Schumann and Johannes Brahms.  $35/$25/$10. There are brochures on the table in the church with details of these concerts and prices for Subscription to all three concerts.

On Thursday 23rd June at 6.30pm- 7.30pm – Chris Cartner (piano) and Emilie Lemasson – (Soprano) present Masterpieces of Opera and Song.  $25/$20.  The concert is followed by drinks – a perfect precursor to dinner.

ORBISTRI Have you taken a copy of the current edition?  There are still some available on the table in the church.  A special thank you to Anne Horry for her work in producing, compiling, editing and printing Orbistri for us.  It is a wonderful contribution to our parish life.

NAIDOC WEEK

This year Naidoc week is celebrated between July 3 and July 10.  We will be holding our celebration on 3rd July.  We will have a special service at 10 am which will be followed by a fund raising lunch.

The Theme for this year is "Songlines – The living narrative of our nation."  This will highlight the importance of Songlines to the existence of Aboriginal and Torres Strait Islander people.  We are all encouraged to explore and celebrate how through Songlines our indigenous people remain connected to Country and have been able to maintain and share sacred stories and ceremonies for tens of thousands of years.

Further details of our recognition and celebration of Naidoc Week will be announced next week.  Please put these events in your diary now.

PETER'S FAREWELL As previously discussed we will be collecting money in the hope of making a presentation to Peter and then the presentation will be made following his farewell Eucharist/ lunch on July 24th. If you would like to contribute please place the money in an envelope marked 'Peter Arnott'. Lunch details will go on the board of the McBean room early July.

SAUSAGE SIZZLES: We need folk to assist with the sausage sizzles.  The roster is on the Board in the MacBean room – or please speaks to Peter Arnott or Lyn Walton.

LIBRARY ANNIVERSARY: This year marks the tenth anniversary of the opening of the present library building and to celebrate as a community we have declared August "Creative East Melbourne" month. This will incorporate our Arts Festival, the East Melbourne Group Trivia night on August 12th at St Peter's Eastern Hill along with a display of creative work at the library. So if you can paint, knit, or create something that will fit the library display please see the Vicar.

ORGAN RESTORATION FUND

:  The Restoration of the organ is due to commence in July.   As the 30th June draws near, please remember that donations are tax deductible and there are donation forms at the back of the church.  We are currently $20,000 short of our target. Thank you to all that have contributed so far.

FACEBOOK

You can now follow us on Facebook.
---
Worship at Holy Trinity each week
Sunday 8am Eucharist
10am Sung Eucharist and Morning Tea
Tuesdays at 5.30pm Christian Meditation Group
Wednesdays at 10am Eucharist followed by Morning Tea On the Second Wednesday of each month the 10am Eucharist is held at Mercy Place Aged Care Facility
Wednesdays Playgroup 9.30am – 11am (during school terms)
Parish contacts:
Vicar:  The Rev'd Grant Edgcumbe
193 Hotham Street East Melbourne  T: 9417 3341
Hon Associate Priest: The Rev'd Jean Penman AM  T: 9457 7328,
Vicar's Warden: Laurence Moore T: 9481-7335
People's Wardens:  Nola Hatton T: 9589 0646; Lynne Mitchell T: 9419 7771