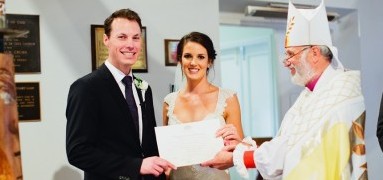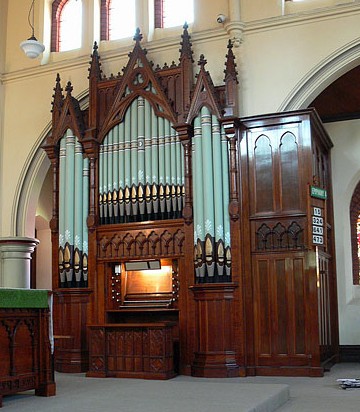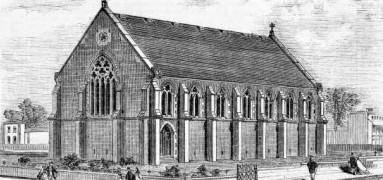 Save Holy TrinityLearn more
ENJOY A WEEKEND OF MUSIC, ART AND DANCE
FOR EVENT DETAILS AND BOOKING


Latest News
HOTLINE
Dear Friends,
as we concentrate our attention on the Arts Festival and give thanks to God for the many beautiful things we have around us I thought it an opportune time to speak of the flowers we often enjoy at Holy Trinity. Floral arranging is an art form in itself and we are truly blessed here to have so many people gifted in this area. The flowers always look fabulous and on big occasions like the Bishop's visit last week extra effort is taken to make them look 'spectacular'. These great arrangements are truly enjoyable but may come with a certain unease, as expressed by the Bishop last week, as to the cost of such things as they appear extravagant in a place where just metres away people are wanting for food. It is true that if last week's flowers were purchased in a retail shop the cost would have been enormous. We are therefore fortunate to be able to obtain our flowers on these big occasions at a wholesaler thus saving an enormous amount. An example from last week is the stocks were only $3.00 per bunch as compared to $12.00 per bunch at Woolworths last week. So please do not fret the cost of our flowers. The arranging is done gratis too and we are most grateful for this.
My sincere thanks to everyone who helped with the Liturgy and Lunch last week. Our small choir was fabulous, Ray's cooking was delicious and we thank him and Laurie for their generosity, those who cleaned the church and Parish Centre, helped serve lunch and clean up – we thank you too. It was a great day and I think the Bishop went away happy and relaxed.
Now this week to the celebration and rejoicing of the Arts Festival – I hope many of your family and friends can be present to enjoy the many great things on offer over the weekend.
Thanks again,
Grant.
Readings for this Sunday (Arts Festival):  Exodus 37.1-17; 1Cor 3.5-17; Matthew 25.14-21.
Praying for the Community
For all members of our community especially all who live and work in George Street, and for our elected representatives in Federal and State Parliaments and Local Government.  In our parish community we pray for those who organise and attend our Book Cafe.
Praying for those in need
Edie, (Randy, Ron and Miles) Gytha, Fr Noel, Karin, Joan, Julie, Ian, Paul, Jeffrey, John, Dianne, Marjorie, Mark, Chris, Margaret & Geoff, Olivia, Nerida, Geoffrey, Suzanne, Lysette, Tony.
Remembering the Departed Ernest Osbourne Harding, Priest,  (1993) Irene Florence Harding (2006) Aug 20 Jean Alison Clabburn (1967) Aug 20 Stella Louisa Gilbert B.E.M. (1999) Aug 22 Bertha Kennon (1949)
Aug 23 Louisa Hannah Lindsay-Smith (1940) Aug 23 Walter Waliss (1974) Aug 24  Eunice Yvonne Jan (1991) Aug 25 Doris Eugenie Sumner (1982) Aug 26 George Neil Lowe (1972)
NOTICES
THANKS to Fr Grant, the Arts Committee and all who have volunteered their time and energies preparing the church and garden surrounds for the weekend. Special thanks to Margaret Webster for the flagpole decorations, banners etc. and to her band of knitters.  Thanks also to those who have prepared and served the refreshments.
WEDNESDAY study group:  We will recommence our Wednesday study groups this week after church ie: Wednesday 23rd with a quick peek, that's all, at what I will call, "Marriage, yesterday, today, tomorrow"
FOURTH THURSDAY BOOK CAFÉ meets this coming Thursday, 24 August.  You will be given a very warm welcome if you would like to join us any time between 2 and 4 pm.
SUNDAY OCTOBER 1 we will celebrate the Feast of St Francis of Assisi who amongst other things is the Patron Saint of animals. So on that day please feel free to bring your pet to church for a blessing. Dogs on leashes, cats in cages, parrots on shoulders would be great. If you have an elephant we might have to bless him in the gardens as he might have trouble climbing the stairs.
SUNDAY NOVEMBER 19 we are going to celebrate "Harvest Festival" where will give special thanks to God for all the wonderful food and drink we have. Also, on that day I hope we can make a special effort to bring along suitable food that we can use to decorate around the altar and then take it all to St Mark's Fitzroy.
ST MARK'S FOOD Sincere thanks to all who continue to contribute to the appeal for food, toiletries, etc. and special thanks to Fr Grant who last week took another boot load across to St Mark's.
FLOWER ROSTER The flower roster for 2017 is on the board and there are still plenty of spaces.  If you wish to secure a date for memorial or other flowers please do so.  If you would like to assist with arranging flowers during the year, all help will be gratefully received.
---
---
Worship at Holy Trinity each week
Sunday 8am Eucharist
10am Sung Eucharist and Morning Tea
Tuesdays at 5.30pm Christian Meditation Group
Wednesdays at 10am Eucharist followed by Morning Tea On the Second Wednesday of each month the 10am Eucharist is held at Mercy Place Aged Care Facility
Wednesdays Playgroup 9.30am – 11am (during school terms)
Parish contacts:
Vicar:  The Rev'd Grant Edgcumbe
193 Hotham Street East Melbourne  T: 9417 3341
Hon Associate Priest: The Rev'd Jean Penman AM  T: 9457 7328,
Vicar's Warden: Laurence Moore T: 9481-7335
People's Wardens:  Nola Hatton T: 9589 0646; Lynne Mitchell T: 9419 7771