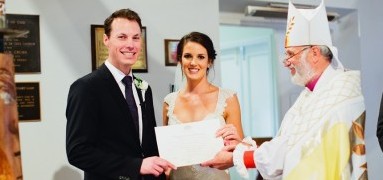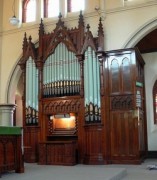 Dear Friends,
A woman with three young children was constantly harassed, beaten and abused by her drunken husband. Often there was not enough to buy food for the family. This lady was a member of her local church and when the husband finally left and divorce proceedings were instigated the Vicar called her for a serious talk. She eagerly attended the Vicars study confident the church was going to offer help with the children and perhaps even some food relief. The Vicar explained in harsh, strict and unforgiving words that divorce was against the Word of God and therefore anyone who is divorced cannot be part of the church. This wounded, desperate mother was therefore removed from the Mother's Union and told that she would no longer be welcome at the Communion Rail.
The story of the Good Samaritan is about more than the poor man who had fallen victim to the robbers – it is about us and the world we live in. Often in our enthusiasm to defend God and the rules we think he has laid down we fall into becoming enemies of forgiveness and love. What Good Samaritan attributes do you find in the Vicar in the story above?
We are called firstly to love and to see the 'rules' through that prism. It is easy to imagine a church, a world run on the grounds of total exclusiveness – only let the people who agree with us in, throw the sinners out onto the street.
Fact is, we are all sinners and as Jesus comes to bind our wounds so we are called to do the same for others without judgment – let's leave that to God.
Have a good week reaching out and caring – don't pass by on the other side.
Grant.
Readings: Amos 7.7-17; Ps 82; Colossians 1.1-4; Luke 10.25-37
Praying for the Community
For all members of our community, especially all who live and work in Gipps Street and for the members of the East Melbourne Group.  In our parish we pray for the readers and intercession leaders.
Praying for those in need
Edie, (Randy, Ron and Miles) Gytha, Karin, Richard, Julie, Paul, Jeffrey, John, Mark, Lindsay, Melissa, Lionel, Patrick, Barbara, Kate, Clare, Rebecca, Susan, Jeff, Neil, Tony, Terry and Richard, Caitlin, Alan, Luke and Bodhi, Harold, Elaine, Raawin, Pia.
Anniversaries  July 14 Lesley Rose Goodliffe (2007) July 15 Charles Swift (1963) July 15 Rosa Virginia Cunningham (1968) July 15 Robin Walton (2014) July 16 Herbert Vogelstrom Journeaux (1965) July 17 Edgar Frost (1985) July 18 John Francis Petty (1997) July 18 Guy Kenelm Stevenson (1964) July 18 Mary Torbit  (1971) July 20 Albert Walter Sommer (1965) July 20 Claudius Rolleston Gant (1974) July 20 Valma Doris Kermode (1994)
Recent deaths   Alison Washington; Michael (Mercy Place)
NOTICES
NAIDOC: Raffle tickets for the hamper are available today in the Morning Tea room – $2 each or 3 for $5.00.
If you were not here last week and wish to make a donation to the Nungalinya College where proceeds of the raffle and last week's retiring collection will be donated, please place your donation in the chest by the table near the church door.
PARISH ELECTORAL ROLL: There are forms on the table near the font for enrolment on the Parish Electoral Roll.  If you are not already enrolled and wish to be would you please fill in a form and hand it to the Vicar or Lyn Walton.
PLAYGROUP : is in recess until Wednesday 24th July 2019.
---
Worship at Holy Trinity each week
Sunday: 8am Eucharist; 10am Sung Eucharist and Morning Tea
Tuesdays at 5.30pm Christian Meditation Group
Wednesdays at 10am Eucharist followed by Morning Tea
Thursdays at 8.30am Morning Prayer and scripture readings followed by Meditation at 8.45am.
On the First Wednesday of the month the 10am Eucharist has an emphasis on healing with the opportunity of anointing. On the Second Wednesday of each month the 10am Eucharist is held at Mercy Place Aged Care Facility
On the Third Wednesday of each month a 1.30pm Eucharist is held at Highgrove Aged Care Facility
Wednesdays Playgroup 9.30am – 11am (during school terms) 
Parish Contacts
Vicar:  The Rev'd Grant Edgcumbe 193 Hotham Street East Melbourne T: 9417 3341
Website: www.holytrinitymelbourne.org.au Email: office@holytrinitymelbourne.org.au
Hon Associate Priest: The Rev'd Jean Penman AM T: 9457 7328,
Vicar's Warden: Laurie Moore T: 9481-7335
People's Wardens:  Lynne Mitchell T:0412592005; Sue Moses-Critchley 9486 3598
---

---
---