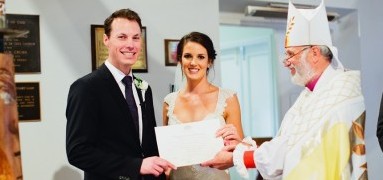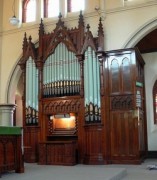 Dear Friends,
Thank you! Thank you! Thank you!
So many thanks for last Sunday's wonderful liturgy, lunch and recital.
First, our thanks to Ray Sharpe and his group of helpers for working so hard to provide not only a magnificent lunch but then a fabulous afternoon tea. I know that Ray had been working for weeks shopping, cooking and preparing for last Sunday and we thank him for his great generosity in both time and provision. Also a thank you to Chris Sharp for the creative flower arrangements.
Thanks to those who assisted him so ably to prepare, serve and clean up.
I have waxed a lot about the organ builders and they were thanked admirably on the day. Thanks to Laurie and Peter for playing. Thanks to our servers who managed the liturgy well in unfamiliar territory. Thanks to all who arranged the morning tea in the parish centre and then cleaned up keeping the day rolling so seamlessly. Thanks to Rhys for the marvellous recital. Thanks to each and everyone of you who have contributed to the organ fund over the many years. Thanks to Lyn for the work of preparing the order of service which is a frustrating and onerous task. Thanks to Gary Morgan for printing our very attractive covers for the orders of service. Thanks to Bishop Ian for his support and ongoing involvement with Holy Trinity. Thanks for the generosity of so many towards the flowers for the day. Thanks to each and every one of you for being here it was so marvellous to have a full church on a Sunday morning with everyone singing so beautifully. Thanks to Joy for allowing us access to parking in Bishopscourt.
A special thanks to Laurie for his patience with a sometimes exasperated Vicar over the period of the rebuild – thanks to Laurie's good nature he was able to stand in the middle between the Vicar and the organ people thus avoiding bloodshed or any other terrible outcome.
All in all I think it was a most memorable day and for that we give thanks to God. Thank you all for being just so wonderful – take a bow people of Holy Trinity – this is a great achievement.
Blessings
Grant.
AND OUR SINCERE THANKS TO OUR VICAR FOR HIS TIRELESS WORK AND PATIENCE.
Readings this Sunday: 2 Samuel 5.1-5., 9-10; Ps 48; 2 Cor. 12.2-10; Mark 6.1-13. 
Praying for the Community
For all members of our community, especially all who live and work in Simpson Street, and for all who work in and visit the East Melbourne Library.  In our Parish we pray for our Wardens.
Praying for those in need
Edie, (Randy, Ron and Miles) Gytha, Karin, Joan, Julie, Ian, Paul, Jeffrey, John, Mark, Suzanne, Wilma, Lindsay, Richard, Melissa, Lionel, Jenny, Ann, Patrick. Barbara, Kate, Clare, Fiona, Rebecca, Susan, Jeff, Neil, Terry and Richard.
We pray for the safe rescue of the boys in Thailand and also for those risking their lives to rescue them.
Anniversaries July 9 Samuel House (1965), July 1o Bridget Elizabeth Whitelaw (2004) July 13 Elsie Muriel Hennell (1972) July 14 Lesley Rose Goodliffe (2007)
NOTICES
FOURTH THURSDAY BOOK CAFÉ – a small but very happy few attended Book Café last week in the cosy warmth of our Parish Centre and were treated to our normal yummy afternoon tea.  FOR YOUR DIARIES: next Book Café is on Thursday, 26 July, 2-4 pm. 
SAUSAGE SIZZLE – A marquee has been purchased for our use at the sausage sizzles thanks to months of research by Rob Mitchell.  We sincerely thank Rob for his efforts and for his generous family and friends attending his 70th birthday and others who have donated towards this project.  Only 6 weeks to go to the end of the home and away season and there are still a few gaps on the roster, can you help? 
NAIDOC – On Sunday 15th July we plan to hold our annual observance of NAIDOC Week.  A special indigenous inspired 10am service and morning tea will be held with an opportunity to win an "Australian" raffle.  There will also be a retiring offertory, proceeds of the raffle and retiring offertory will be given to the ongoing work of Nungalinya College.  We hope you will come along and support this important occasion with us.
BOOK FAIR – It is with pleasure that we advise the amount achieved at our Book Fair this year was $3,710.70.  It was the intention of the Book Fair committee to give some of the money achieved to indigenous projects.  After consultation with the committee and the Vicar, it has been agreed to donate $700 to Nungalinya College – a mighty effort, thanks to all involved.
DO YOU LIKE TO WARBLE? Then come along to the "East Melbourne Singers Group" lots of fun and laughter and singing each Wednesday evening in the Parish Centre (193 Hotham Street) from 5:30 pm.
MEDITATION – A second opportunity for meditation is offered on Thursday mornings following Morning Prayer at 8.30am and beginning at 8.45 am.
NEXT WEDNESDAY our 10am Eucharist will be at Mercy Place Aged Care.
---

AUGUST 10 – AUGUST 12
BOOKINGS & INFORMATION AT:
---
---
Worship at Holy Trinity each week
Sunday 8am Eucharist
10am Sung Eucharist and Morning Tea
Tuesdays at 5.30pm Christian Meditation Group
Wednesdays at 10am Eucharist followed by Morning Tea.
On the First Wednesday of  the month the 10am Eucharist  incorporates the Order of St Luke healing service.
On the Second Wednesday of each month the 10am Eucharist is held at Mercy Place Aged Care Facility
Wednesdays Playgroup 9.30am – 11am (during school terms)
Parish contacts:
Vicar:  The Rev'd Grant Edgcumbe
193 Hotham Street East Melbourne  T: 9417 3341
Hon Associate Priest: The Rev'd Jean Penman AM  T: 9457 7328,
Vicar's Warden: Sue Moses-Critchley
People's Wardens:  Nola Hatton T: 9589 0646; Lynne Mitchell T: 9419 7771