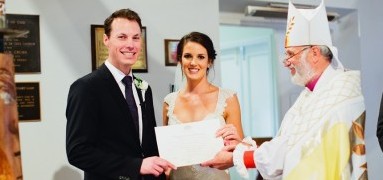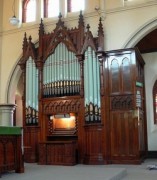 ORGAN RECITAL – Czech organist Pavel Kohout returns to Holy Trinity to present a recital featuring works by Vivaldi, Bach, and Schumann. 19th September 7.00pm. $30/25  Students and children $15  Enquiries 94817335
Dear Friends,
Last Tuesday was not only the anniversary of the horrible events in America all those years ago but also the fourth anniversary of my induction at Holy Trinity. Anniversary's give us the opportunity to pause and reflect on past things. I wonder what the world has learned since September 11 as in many ways the world seems a less safe place now than it was then.
We humans seem to have these flaws that ensure we keep repeating the same dreadful acts and mistakes of the past. Look at the tragic situation in Syria, Yemen and the involvement in these great sufferings by larger nations who we might hope would lead us to peace rather than greater human tragedy.
In the immediate aftermath of September 11th 2001 the world was gripped with a feeling of complete helplessness as many believed terrorism had won.
The good news for us is that along with our propensity for violence and horror there is a great deal of good in humanity. The world has not ended since then and much has been rebuilt.  As we remember those momentous events let's do so optimistically and confidently that humanity is never as bad as some events may lead us to believe.
Grant. 
Praying for the Community
For all members of our community, especially all who live and work in Darling Street and  for the clergy and people of the Unitarian Church.  In our parish we pray for our Playgroup.
Praying for those in need
Edie, (Randy, Ron and Miles) Gytha, Karin, Joan, Julie, Ian, Paul, Jeffrey, John, Mark, Suzanne, Wilma, Lindsay, Richard, Melissa, Lionel, Ann,  Patrick. Barbara, Kate, Clare, Fiona, Rebecca, Susan, Jeff, Neil, Terry and Richard.
Anniversaries  (Marna & Frank, Dulcie, Hazel & Walter), Sept 17 Jessie Hannah Collard (1972) Sept 17 Lilian Mitchell (2002) Sept 18 Elizabeth Alston (1963) Sept 18 Lewis Rees (1966) Sept 18 Patricia Muriel Jean Dance (1990) Sept 18 May Margaret Hazle (1990) Sept 20 Florence Frances Whyte (1965) Sept 22 Joanne Macdonald (2011) Sept 22 Maureen McCamish (1997)
Recent deaths  Judith Claire Dewar, priest
NOTICES
NOTE: There will be no 8 o'clock on Sunday September 23rd and at 10 o'clock we will welcome Father Tat who will preach and celebrate that day.
ORGAN RECITAL – Czech organist Pavel Kohout returns to Holy Trinity to present a recital featuring works by Vivaldi, Bach, and Schumann. 19th September 7.00pm. $30/25.
SUNDAY 7th October we will celebrate the Feast of St Francis of Assisi who amongst other things is the Patron Saint of animals. So on that day please feel free to bring your pet to church for a blessing. Dogs on leashes, cats in cages, etc. would be great.
WORKING BEE Please put aside Saturday October 6th for a Parish Working Bee beginning at 10:00am. Please give us at least an hour of your time as many hands make light work.
EAST MELBOURNE SINGERS will be in recess until October 17th.
GREAT NEWS! Sunday December 16th we will be welcoming Bishop Genieve for a Confirmation Service, so there will be no 8 o'clock on that day. At present we have one candidate for confirmation if there are any others please see the Vicar.
At the Parish Council meeting last week it was decided to move our Christmas Eve Midnight Mass to 9 pm in the hope that this might be a more attractive time for people. Apparently St Patricks have done this for the last few years. Could you please start letting this be known throughout the community please
THIS YEAR marks the 100th anniversary of the armistice that ended the first world war and November 11th is on a Sunday. So, we will be having a special liturgy that day to commemorate the fallen in that war. Australia was a new nation at the outbreak of that war and we lost more in percentage terms than any other nation with around 65% of those who went to war never returning – more of this later. Does anyone in the parish have RSL or Legacy connections or family members whom you would like to be specifically remembered on that day? It would be nice to have medals on display and some special flowers etc.

---
---
Worship at Holy Trinity each week
Sunday 8am Eucharist
10am Sung Eucharist and Morning Tea
Tuesdays at 5.30pm Christian Meditation Group
Wednesdays at 10am Eucharist followed by Morning Tea.
On the First Wednesday of  the month the 10am Eucharist  incorporates the Order of St Luke healing service.
On the Second Wednesday of each month the 10am Eucharist is held at Mercy Place Aged Care Facility
Wednesdays Playgroup 9.30am – 11am (during school terms)
Parish contacts:
Vicar:  The Rev'd Grant Edgcumbe
193 Hotham Street East Melbourne  T: 9417 3341
Hon Associate Priest: The Rev'd Jean Penman AM  T: 9457 7328,
Vicar's Warden: Sue Moses-Critchley
People's Wardens:  Nola Hatton T: 9589 0646; Lynne Mitchell T: 9419 7771