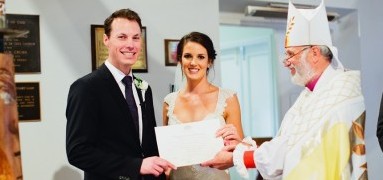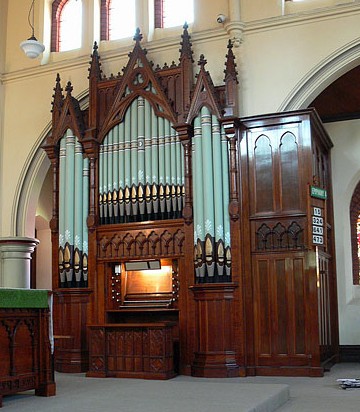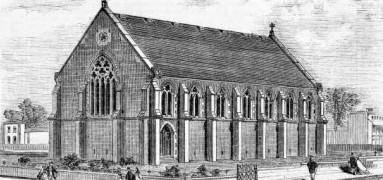 Save Holy TrinityLearn more

Festival Ticket – All Events: $120/$90 conc.
Bookings: Trybooking using code for each event
---
Latest News
HOTLINE

Dear friends,

I have told the story of my great aunt who was one of the most house proud people who ever lived. If dining there, plates were whipped away as you put the last morsel into your mouth, washed up and put away before you had a chance to blink. Although she worked every day as did her husband leaving the house empty all day she still vacuumed and polished the floors every night of her life. This constant interruption to my uncle's television viewing so annoyed him that he eventually took matters into his own hands. One night after the usual hurried dinner and clean up, uncle had retired to the lounge to watch the television when he heard it – the almost blood curdling shriek of Aunty who had discovered the Hoover minus the electric plug. Yes, fearlessly uncle had been to the garage, secured the wire cutters and cut the plugs off the polisher, vacuum cleaner and washing machine. Poor uncle's imagined uninterrupted viewing was of course punctuated with the constant carping of Aunty about this dire predicament.

In this week's gospel Jesus blesses hard work but also says that sitting and listening is perhaps the 'better part' suggesting that it is not work that defines us. We need, I think, to make time to be both Mary and Martha in life and sometimes turn off the instruments of work and just 'be' – why not give it a try this week.

Grant.

Readings this week:  Amos 8.1-12; Ps 52; Colossians 1.15-29; Luke 10.38-42.

Praying for the Community

For all members of our community especially all who live in Eades Street and for the staff, residents and chaplains at Mercy Aged Care.   In our parish community we pray for our Meditation Group.

Remembering the departed July 17 Edgar Frost (1985) July 17 Passengers & crew of MH17 downed over Ukraine including 39 Australians (2014) July 18 Guy Kenelm Stevenson (1964) July 18 Mary Torbit (1971)  July 18 John Francis Petty (1997) July 20 Albert Walter Summer (1965) July 20 Claudius Rolleston Gant (1974) July 20 Valma Doris Kermode (1994) July 23 Dorothy Beatrice Menzies (2011) July 23 Valma Rose Counsel (2013)   Recently departed  Colin Holden.

BISHOPSCOURT OPEN HOUSE.  On July 30 & 31 we will be doing a sausage sizzle at Bishopscourt.   There is a roster on the Notice board.  If you can assist would you please put your name in the appropriate slot.

SAUSAGE SIZZLES.  The roster for August 5th & 6th is on the Board.  If you can assist, please speak to Lyn.

NEXT WEDNESDAY AFTERNOON is our monthly service at Highgrove.  Please pray for the residents of Highgrove.

PETER'S FAREWELL If you would like to contribute to the presentation to Peter please place the money in an envelope marked 'Peter Arnott' and place it in the offertory bowl today. The farewell Eucharist and Lunch will be on July 24th.  The list for the lunch is on the notice board. If you are attending please ensure that your name is on the list today. Also volunteers to help polish up the church etc for the farewell would be great.  Please speak to Lyn.

PARKING PERMITS We would be grateful if anyone with Area 3 parking permits would make them available for July 24th for the luncheon.  If you know non-parishioners who would be prepared to lend theirs would you please ask them  They should be clearly marked with the name (and possibly address) of the owner. If any are available on 30th & 31st July they would also be very welcome to assist with our sausage sizzle at Bishopscourt.

EAST MELBOURNE GROUP Trivia Night will be held on Friday 12 August at 7.30pm at St Peter's Church Hall.  The cost is $25.00 per head and if we wish to field a team ideally we need ten people.  However a number less than ten is fine and will be allocated to a team.   Please indicate your interest on the draft booking form on the noticeboard.

FACEBOOK

You can now follow us on Facebook.
---
Worship at Holy Trinity each week
Sunday 8am Eucharist
10am Sung Eucharist and Morning Tea
Tuesdays at 5.30pm Christian Meditation Group
Wednesdays at 10am Eucharist followed by Morning Tea On the Second Wednesday of each month the 10am Eucharist is held at Mercy Place Aged Care Facility
Wednesdays Playgroup 9.30am – 11am (during school terms)
Parish contacts:
Vicar:  The Rev'd Grant Edgcumbe
193 Hotham Street East Melbourne  T: 9417 3341
Hon Associate Priest: The Rev'd Jean Penman AM  T: 9457 7328,
Vicar's Warden: Laurence Moore T: 9481-7335
People's Wardens:  Nola Hatton T: 9589 0646; Lynne Mitchell T: 9419 7771