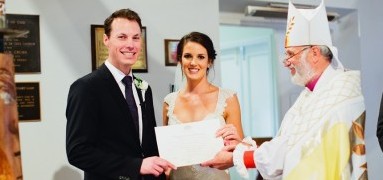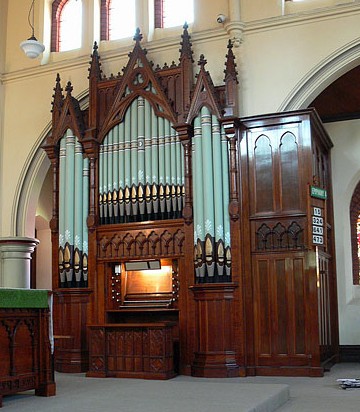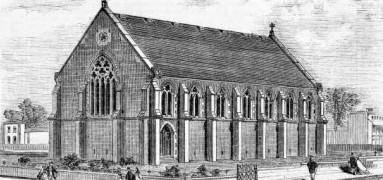 Save Holy TrinityLearn more
Latest News
HOTLINE
Dear Friends,
Well here we are again almost at the beginning of Lent; which may come as a surprise to our large supermarket chains who seem to think we have arrived at Easter already with garish displays of coloured eggs having been on their shelves for several weeks. We begin Lent this year with the traditional Shrove Tuesday pancakes in the parish centre. The origins of this practice spring from the notion that Lent being a time of restraint in almost all things especially diet, people would eat up all the indulgent things like butter, sugar and flour on the night before the beginning of Lent. So, 'Mardi Gras' or 'Fat Tuesday' is in fact not a gay parade day in Sydney but rather a day traditionally filled with rich religious symbolism. Please join us on Tuesday evening for some fellowship and fun.
Ash Wednesday is the day that we remind ourselves that we are indeed mortal and we take ash as a symbol that in the providence of God all the mistakes, sorrows and shortcomings of the previous can be burned and turned into ash as we begin again trying ever harder to walk in Jesus' way of love. There are two services that day at 10 am and 7:00 pm. I commend these to you in the hope that a good beginning to Lent will start us on a good path for that six weeks as we prepare ourselves for the sorrow and then the good news of Easter.
Grant.
Readings this Sunday: Isaiah 58.1-9a; Ps 112; 1 Corinthians 2.1.16; Matthew 5.13-20.
MAINTENANCE

. We have a great gift in the beautiful church building, vicarage and hall at Holy Trinity which comes with the obligation of keeping it all in the best condition possible. In the last year the windows and door on the hall have been restored and painted, some painting has been done on the Eastern side of the church building and we are soon to begin the outside painting of the Vicarage. Several trees have been pruned or removed and we thank John Webster and Laurie for removing the large tree on the western wall of the church, the roots of which were beginning to threaten the foundations. John and Laurie have saved us a very large sum by carrying out the work for us. The organ is away being restored and several other maintenance items will need to be dealt with soon. The parish has a maintenance fund which is being depleted by these projects. Therefore, if you are able to make a one off donation to the maintenance fund (which is a

maintenance specific trust fund

) we would be very grateful. Any donations should be put in an envelope marked "Maintenance Fund."

SHROVE TUESDAY PANCAKES – Next Tuesday 28th February is Shrove Tuesday and we plan to have a pancake dinner in the Parish Centre commencing 6pm.  Come along and taste some savoury and/or sweet pancakes whilst enjoying fun and fellowship with others.  Pancakes, soft drink, tea and coffee provided.  For catering purposes please let the Vicar, Jean Penman or Lyn Walton know if you are coming or email office@holytrinitymelbourne.org.au .
ASH WEDNESDAY – Next Wednesday March 1st is Ash Wednesday.   We will have two services – the usual 10am Eucharist (with imposition of ashes) followed by our Lenten Study; then the evening Eucharist (with imposition of ashes) at 7pm.  For the remainder of Lent there will be the usual 10am service followed by the Lenten Study.
UPCOMING CONCERTS:
5th March 5.30pm. Baker Trio;
JULIA FOX is doing the MS Swimathon up at Fitzroy Pool this weekend.  It runs for 24 hours, Friday 6pm to Saturday 6pm. She will be swimming in a team on Friday night. This particular fundraiser for MS was started in 2001 by Carol Cook AM.  Carol has had MS for nearly 20 years but continues to do perform amazing feats.  (Google her) Funds raised goes to increasing level of care and support for people living with MS whilst the search for a cure continues. If you are happy to donate you can do so either giving Julia monies/cheque and she will give you a receipt or going to the website "msmegaswim.org.au, and look for the 2017 Fitzroy MS24 Mega Swim and follow the links to donate.  Then type in my name to find my team "OAM" and then donate.
THEOLOGY AT TRINITY – CONTINUING EDUCATION PROGRAM OFF THE SHELF
Nicola Slee's The Book of Mary with Stephen Burns THURSDAY 16 MARCH 2017 6.00pm – 7.30pm, Old Warden's Lodge, Trinity College, Parkville
$20 ($15 concession) which includes refreshments. Join Trinity College Theological School faculty member Stephen Burns for an exploration of feminist reception of marian doctrine and devotion that takes its clues from Nicola Slee's The Book of Mary.
The discussion will include readings of Nicola Slee's prayers and poems, alongside visual art, and reference to a range of feminist theologians.
Stephen Burns is the Stewart Distinguished Lecturer in Liturgical and Practical Theology at the Trinity College Theological School.To register, email to theologyevents@trinity.edu.au or call 03 9348 7127
---
Worship at Holy Trinity each week
Sunday 8am Eucharist
10am Sung Eucharist and Morning Tea
Tuesdays at 5.30pm Christian Meditation Group
Wednesdays at 10am Eucharist followed by Morning Tea On the Second Wednesday of each month the 10am Eucharist is held at Mercy Place Aged Care Facility
Wednesdays Playgroup 9.30am – 11am (during school terms)
Parish contacts:
Vicar:  The Rev'd Grant Edgcumbe
193 Hotham Street East Melbourne  T: 9417 3341
Hon Associate Priest: The Rev'd Jean Penman AM  T: 9457 7328,
Vicar's Warden: Laurence Moore T: 9481-7335
People's Wardens:  Nola Hatton T: 9589 0646; Lynne Mitchell T: 9419 7771