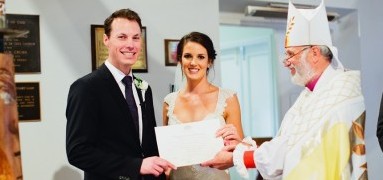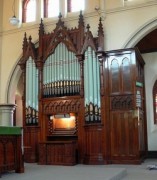 Dear Vertically Integrated Hopefuls,
Mass shootings in America, stock market crashes, an economy that seems to be turning down, India annexing Kashmir, Commercial vessels being taken hostage, the seemingly never ending horror of Syria, Taft's is closing this weekend, and the list goes on and on. Small wonder newspaper circulations are down as this is the worrying news that is reported. Sometimes I think the world has gone completely mad and I don't recognise it any longer.
The writer of the Letter to the Hebrews says this, "faith is the assurance of things hoped for, the conviction of things not seen". This is great news in such a mad world as it promises us that through faith we can imagine, we can hope for a better world, a world as yet, unseen. Even in the apparent chaos and increasingly unsettled world we can still have hope which is the very basis of our lives and joy.
Someone said to me recently that in times of crisis the attendance at churches often increases – that's because we above so many others have this hope for a better world and society. Let's hold fast to that as we go about spreading that hope to a world in increasing despair and darkness. Let's drop all the gloom we can see and move into a world hoped for that as yet we may not be able to see or imagine.
Grant.
Readings: Pentecost 9 – Isaiah 1.1,10-20; Ps 50 1-6; Hebrews 11.1-3, 8-16; Luke 12:32-40.
Praying for the Community - For all members of our community, especially all who live and work in Jolimont Street and for all who tend and visit the Fitzroy Gardens and Yarra Park.  In our parish we pray for our Parish Council.
Praying for those in need - Edie, (Randy, Ron and Miles) Gytha, Karin, Richard, Julie, Paul, Jeffrey, John, Mark, Lindsay, Melissa, Lionel, Patrick, Barbara, Kate, Clare, Rebecca, Susan, Jeff, Neil, Tony, Terry and Richard, Caitlin, Alan, Jean, Luke and Bodhi, Harold, Elaine, Raawin, Pia, Jonathan, Marga.
Anniversaries  Aug 8 Archer des Cognets (2008) Aug 12 James Curnow Hughes (2016) Aug 13 Florence Maud Galbraith (1963) Aug 13 Eunice Jessie Mary Page (1964) Aug 14 Eleanor Kathleen Morris (1984) Aug 15 Gavin Scoular (1962) Aug 15 James Fox-Harvey (1978) Aug 16 Albert Dodds (1963) Aug 16 Emily Margaret Louise Gray (1968) Aug 16 Mary Maxwell (2014) 
NOTICES
MORNING PRAYER & MEDITATION – there will be NO Morning Prayer or Meditation on Thursday 15 August as Fr Grant has a medical appointment at Brighton at 9am and these appointments are hard to get and he has no choice.  His apologies in advance.
THANK YOU-to everyone who remembers small gifts of canned food etc for the Community Centre at St Marks. A special thank you to Fr Grant who regularly delivers the goods to St Mark's and this week delivered a large boot load.
ST BARTHOLOMEW'S DAY – Friday 23 August at 6.30pm St Bartholomew's Church 300 Burnley Street Richmond will, following Procession and Solemn Eucharist, hold a Festive Dinner – see full details on noticeboard.  Enquiries 9428 3284.
SONGS OF PRAISE – St Peter's Eastern Hill Saturday 19th October 2019 2.30pm.  $35 ticket price includes copy of 2020 Church calendar and afternoon tea.  Contact Helen Drummond 0419 897 973 or drummo07@aachurchcalendar.com for more information.
PARISH LUNCH – Our August Parish Lunch has been postponed from 25th August to Sunday 1st September 2019.  Further details shortly.
---
---
Worship at Holy Trinity each week
Sunday: 8am Eucharist; 10am Sung Eucharist and Morning Tea
Tuesdays at 5.30pm Christian Meditation Group
Wednesdays at 10am Eucharist followed by Morning Tea
On the First Wednesday of the month the 10am Eucharist has an emphasis on healing with the opportunity of anointing.
On the Second Wednesday of each month the 10am Eucharist is held at Mercy Place Aged Care Facility
On the Third Wednesday of each month a 1.30pm Eucharist is held at Highgrove Aged Care Facility
Thursdays at 8.30am Morning Prayer and scripture readings followed by Meditation at 8.45am.
Wednesdays Playgroup 9.30am – 11am (during school terms)
Parish Contacts
Vicar:  The Rev'd Grant Edgcumbe 193 Hotham Street East Melbourne
T: 9417 3341
Hon Associate Priest: The Rev'd Jean Penman AM T: 9457 7328,
Website: www.holytrinitymelbourne.org.au Email: office@holytrinitymelbourne.org.au
Vicar's Warden: Laurie Moore T: 9481-7335
People's Wardens:  Lynne Mitchell T:0412592005;
Sue Moses-Critchley 9486 3598
---

---
---