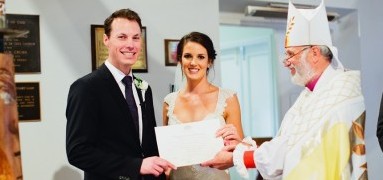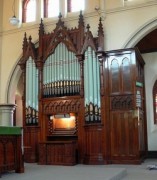 GOOD NEWS!!!
The organ restoration is nearly completed and we wish to thank all who have contributed to the fund.
The restoration has included the re-instatement of the oboe stop and the swell box,  re-leathering of the bellows, restoration of the action and many other minor repairs and adjustment.  This work has returned this historic organ to its original specification following alterations in the 1970′s.  This is a joyous occasion for the congregation and will add to the worship at Holy Trinity.
The organ will be re-dedicated by Bishop Ian George at the 10 am Eucharist on 1st July.
At 2.30pm that afternoon there will be an organ recital by Rhys Boak, organist at St Michael's Uniting Church Collins Street Melbourne.
All are welcome.
---
---
---
---
Worship at Holy Trinity each week
THERE IS NO 10am WEDNESDAY SERVICE ON THE 25th APRIL
Sunday 8am Eucharist
10am Sung Eucharist and Morning Tea
Tuesdays at 5.30pm Christian Meditation Group
Wednesdays at 10am Eucharist followed by Morning Tea On the Second Wednesday of each month the 10am Eucharist is held at Mercy Place Aged Care Facility
Wednesdays Playgroup 9.30am – 11am (during school terms)
Parish contacts:
Vicar:  The Rev'd Grant Edgcumbe
193 Hotham Street East Melbourne  T: 9417 3341
Hon Associate Priest: The Rev'd Jean Penman AM  T: 9457 7328,
Vicar's Warden: Sue Moses-Critchley
People's Wardens:  Nola Hatton T: 9589 0646; Lynne Mitchell T: 9419 7771