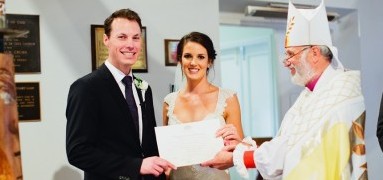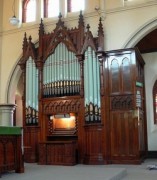 Dear Friends,
Now that the election is almost over, and at time of writing I have no idea who will form the next Government, I thought it a good time to stop and think about how fortunate we are as Australians. Fortunate in that we can have such a diversity of characters as the many people who stood at the election. We are fortunate that we enjoy such an unparalleled variety of views and opinions, fortunate that we are, by and large, free from corruption. Fortunate that every one of us can vote and say just about anything we like. There are millions around the world who would die to enjoy the freedoms we enjoy here.
Gruelling and sometimes annoying as these campaigns can be, I urge us to give thanks to God for the privilege and freedom that is almost unique to this wonderful nation. In the history of humanity there have been few peoples who have enjoyed the glorious freedom and bounty that we enjoy. It's amazing.
Grant.
Readings Easter 5:Acts 11.1-18; Ps 148; Revelation 21.116; John 13.31-35.
Praying for the Community
For all members of our community, especially all who live and work in Agnes Street and for the staff, patients and chaplains at Epworth Freemason's Hospital.  In our Parish Community we pray for our Parish Council meeting on Sunday.
Praying for those in need
Edie, (Randy, Ron and Miles) Gytha, Karin, Julie, Paul, Jeffrey, John, Mark, Lindsay, Richard, Melissa, Lionel, Patrick, Barbara, Kate, Clare, Rebecca, Susan, Jeff, Neil, Tony, Terry and Richard, Caitlin, Betty, Alan B.
Anniversaries May 21 Florence Ethel Batten (1999) May 21 Katy Welsh (2014) May 23 Emily Maud Marshall (1966) May 24 Eric Francis Cock (1965) May 25 Francis Edward Crotty (Vicar of this Parish 1929-1934) (1940) May 25 Jeanette Mary Dalton (2001)
NOTICES
Great News!
The Reverend Clem Taplin has agreed to be our guest preacher for Trinity Sunday – our Feast of Title. Clem amongst many things is Archbishop Woods' daughter so spent much of her time here in East Melbourne when younger. It is a thrill to invite her back. Clem will preach at 10 am so there will be NO 8 o'clock that morning Sunday June 16. This is really the birthday of the Parish so as we give each other birthday presents maybe you might consider an extra birthday present to the Parish via the plate on this day.
THE FOURTH THURSDAY BOOK CAFÉ meets this coming Thursday 23 May from 2 – 4pm.  If you are free, our cosy Book Café is a great place to be on a chilly Winter's afternoon!
PLAYGROUP is now in its 6th year – congratulations and thanks to all who assist with this great program.  However we are in need of more helpers and if you would like to assist and can spare an hour on Wednesdays during school terms between 9.30am – 10.30am would you please contact Margaret Webster (9417 7373) Julia (0417 522 362) or the Vicar.
THIRD SUNDAY SINGALONG – Sunday 16 June 5pm – 7pm at 56 Grey Street East Melbourne.  Come along and have a drink, nibbles and a good sing.  Phone Pat (0425 854 836) or Barbara (0417 700 325) for more information.
SUNDAY May 26th is our Harvest Festival and Parish lunch in the Parish Centre. Please bring along something extra that day for Fitzroy.
SAUSAGE SIZZLES– The next roster to July 7th is on the Noticeboard in the Macbean Room.  If you are able to assist please put your name in the appropriate spot.
---
Worship at Holy Trinity each week
Sunday: 8am Eucharist; 10am Sung Eucharist and Morning Tea
Tuesdays at 5.30pm Christian Meditation Group
Wednesdays at 10am Eucharist followed by Morning Tea
Thursdays at 8.30am Morning Prayer and scripture readings followed by Meditation at 8.45am.
On the First Wednesday of the month the 10am Eucharist has an emphasis on healing with the opportunity of anointing. On the Second Wednesday of each month the 10am Eucharist is held at Mercy Place Aged Care Facility
On the Third Wednesday of each month a 1.30pm Eucharist is held at Highgrove Aged Care Facility
Wednesdays Playgroup 9.30am – 11am (during school terms) 
Parish Contacts
Vicar:  The Rev'd Grant Edgcumbe 193 Hotham Street East Melbourne T: 9417 3341
Website: www.holytrinitymelbourne.org.au Email: office@holytrinitymelbourne.org.au
Hon Associate Priest: The Rev'd Jean Penman AM T: 9457 7328,
Vicar's Warden: Laurie Moore T: 9481-7335
People's Wardens:  Lynne Mitchell T:0412592005; Sue Moses-Critchley 9486 3598
---

---
---