Our services
Getting Married at Holy Trinity Church, East Melbourne
We are delighted that you are considering getting married at Holy Trinity Church. The church will provide a beautiful setting for this very important occasion in your life. The decisions, promises and commitment you will make will be binding upon you for life, and in coming to the church for marriage, you are asking God to be part of your marriage. Be assured of the church's prayers for you as you make your preparations. As part of those preparations we invite you to join us regularly for worship. You are most welcome at our services 10am each Sunday.
Relationship Enrichment
The Diocese of Melbourne recommends Prepare, a programme that enriches relationships. Prepare aims to highlight a couple's strengths and weaknesses, and to enhance communication skills. For further information please consult the Prepare-Enrich Australia website www.prepare-enrich.com.au.
Space available
The Church seats up to 200 with comfort.
What the Church requires
At least one of you must be baptised. Baptism preparation is available where neither of you has been baptised. And of course you need to be of marriageable age and not married to anyone else!
Legal Requirements
All official and legal documentation is arranged by the vicar who will celebrate your marriage. You will need to show original birth certificates.

Fees
A deposit of $250 is required as soon as you request a date for your wedding service. Unless this deposit is paid, the time and date of your wedding is not secured.
The Parish's wedding fees are currently being revised and are available on request. The fee is a package which includes the preparation of legal documents, the preparation of the building by the verger, and the celebrant, the Organist, the flowers and planning. There will be additional charges if you choose to have a choir, extra flowers or personalised Orders of Service for your wedding. Fees must be paid prior to your wedding. Wedding fees are reviewed annually and are subject to change for future years.
Next steps
If you would like to get married at Holy Trinity Church please contact the office on 03 94173341 or email us on office@holytrinitymelbourne.org.au to check whether your proposed day and time are available. You will need to make a $250 deposit by direct credit and information to do this will be supplied after the date has been confirmed as available.
You will need to make an appointment with the Vicar and sign the Notice of Intended Marriage Form 13 and start to plan the service with the Vicar who can give suggestions about readings and music and can also advise you on the parish's policy relating to photography and video-recording.  The earliest date that you can lodge Form 13, is 18 months before the wedding date, although we are happy for you to book and secure a date up to 2 years in advance.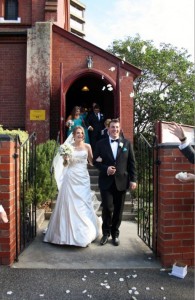 Closer to your wedding, we will meet to discuss your order of service. Click here to download a template order of service booklet.  Note this is a full service version, you are not required to give this version to guests; this version is for the Vicar.  This has been designed to print at correct size onto A4.
Once you have finished, send your order of service to the Vicar for approval then you're ready to finalise and print it for your big day.
In the weeks leading up to your wedding, we organise a full rehearsal with you and your bridal party.  This helps everyone know what to expect on the day of the wedding.
After your wedding day
On the day you will be given a commemorative Marriage Certificate.  Note this is not your official marriage certificate, to change your name you will need to obtain an official Marriage Certificate from Births, Deaths and Marriages after your marriage has taken place.
---
Did you know we keep a record of marriages dating back to 1871?
Holy Trinity keeps an archive of all marriage certificates.  The fee for retrieval is $20 and can be sent to you in the following formats:
photocopied and sent by return mail or
in electronic format via email.
Please note that records from 1882 are missing and 1887 incomplete.
Baptism at Holy Trinity Church, East Melbourne
How the Church Understands Baptism
Baptism marks a significant moment, both in the life of the child or adult candidate, and in the life of the church community, family and friends. Baptism celebrates a new beginning as a member of Christ's body, the Church. Baptism immerses us in the new life given to us through the death and resurrection of Jesus at Easter. When we come for baptism we are saying "yes" to God's love and desire for us to belong to the community of God's people, accepting God's promises of eternal life and welcome to a new way of living.
Who is involved?
Parents bear the main responsibility for a child's well-being. In the baptism service you will be asked whether you are willing to accept the responsibilities of Christian parenthood. You will be asked to make a commitment of faith in Jesus Christ.
Godparents have an important function, and should be chosen with care. They are primarily to help with the Christian upbringing of their godchild. They should understand and accept the responsibilities they undertake. Godparents or sponsors do not need to be Anglicans, but they must be baptised themselves, and they should be practising Christians who are, ideally, worshipping members of a church.
The Church is the community of faith to which the baptised belong. This community helps parents and godparents with the responsibilities of raising their children as active members of the church and nurtures all candidates by prayer, education and fellowship as they grow in their faith.
Preparation
In baptismal preparation we seek to explore our faith and to understand the promises being made at baptism. Baptismal preparation is arranged with parents and godparents before the date of each baptism through an appointment with one of the parish clergy. If you wish to proceed with the Baptism, arrangements will be made for preparation and a walk through of the Order of Service.
The Baptism Service
At Holy Trinity baptisms are celebrated by arrangement with the Vicar.
There is no fee for baptism; however, we do encourage you to make a thank-offering for the work of the Parish. An envelope is provided and this can be placed in the offertory bowl at the baptismal service.
If you would like to discuss baptism further, or to arrange for a baptism, please contact the Parish Office by telephone (03) 9417 3341 or by email office@holytrinitymelbourne.org.au.
Funerals at Holy Trinity Church, East Melbourne
.
Please contact the parish office on (03) 94173341 to discuss our funeral services.
Parish Outreach activities
Each Sunday parishioners are invited to donate goods for St Mark's Fitzroy Community Centre and these are presented as part of our offertory. This is supplemented by special appeals during the year. Appeals for the Lazarus Centre are also responded to, and parishioners volunteer their services on a regular basis to these Centres.
A NAIDOC service and parish meal is held in July each year with proceeds going to assist indigenous projects.
The church is available to hire for concerts. Facilities include a maintained Kawai KG-2C piano, a raised 5×5 metre area suitable for performance and a supper room.  The church has an audience capacity of 200.
There is also a smaller meeting room available for hire with a seating capacity of about 40.  There is also a kitchen available for food preparation.
Please contact the Parish for more information.