Dear Friends,
In this morning's Age (17/08/2022) there is the heartbreaking love story of Nilar Thien and Ko Jimmy a married couple whose love was forged and survived on the anvil of hate now perpetrated by the monsters who have stolen control over Myanmar. They met at a protest march and were so dedicated to each other that their love survived many incarcerations, beatings, trials and horror. Ko Jimmy used to write Nilar poetry and other love tributes that were smuggled between prisons where they often only gained a glimpse of one another. They collected books, they had a daughter called Sunshine and they had vowed that if things ever got really bad then each would resort to suicide. Ko Jimmy was arrested for the umpteenth time last month and was then executed by the military, they even stole his vow of suicide. There has been no funeral. Nilar Thien is in hiding with Sunshine.
This may sound like a sad and hopeless story and on one level I guess it is but it is also a wonderful story of human love, devotion and courage – more than that it is a story of hope as it finishes with this way:
Nilar Thien hopes, "Maybe one day, when it's safe, she will return home to the books she and Ko Jimmy collected. Maybe one day she'll walk through the door with Sunshine and hear him in the kitchen, singing."
Rather transforms the complaints about wearing masks here ?
Stay safe
Grant
Our prayer for days ahead is for balance, consideration and listening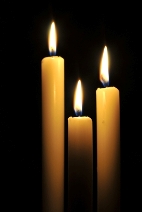 The gospel calls us to be people of Hope even in the darkest hour. Maybe you can find time to say an extra prayer for all those in such desperate circumstances in Australia and the rest of the world?
I offer you this prayer that hopefully you will find time to pray each day_
God of the nations, whose sovereign rule brings
justice and peace,
have mercy on our broken and divided world.
Shed abroad your peace in the hearts of all
and banish from them the spirit that makes for war,
that all races and peoples may learn to live
as members of one family
and in obedience to your law,
through your Son, Jesus Christ, our Lord. Amen.
The Australian Prayer Book.
---
Worship at Holy Trinity each week
Sunday: 8am Eucharist; 10am Sung Eucharist and Morning Tea
Tuesdays at 5.30pm Christian Meditation Group
Wednesdays at 10am Eucharist followed by Morning Tea
Thursdays at 8.30am Morning Prayer and scripture readings followed by Meditation at 8.45am.
On the First Wednesday of the month the 10am Eucharist has an emphasis on healing with the opportunity of anointing.
Wednesdays Playgroup 9.30am – 11am (during school terms)
Parish Contacts
Vicar:  The Rev'd Grant Edgcumbe 193 Hotham Street East Melbourne
T: 9417 3341
Website: www.holytrinitymelbourne.org.au Email: office@holytrinitymelbourne.org.au
Vicar's Warden: Laurie Moore T: 9481-7335
People's Wardens:  Lynne Mitchell T:0412592005;
Sue Moses-Critchley 9486 3598
---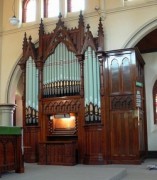 ORGAN RESTORATION FUND learn more…

---
---