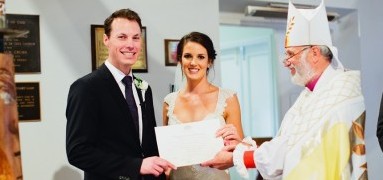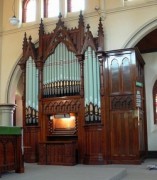 Services have now resumed. You are most welcome to join us at 8 am or 10am or still view the 10 am service on Youtube
PENTECOST 2020 https://www.youtube.com/watch?v=AJ-l_XoqCmU
TRINITY SUNDAY 2020 https://youtu.be/12KpdY36GPM
PENTECOST 2 – 14 JUNE 2020 https://www.youtube.com/watch?v=a0CkEjTeBHw
BIRTH OF ST JOHN THE BAPTIST: https://www.youtube.com/watch?v=wDk2g2_IuCU
STs PETER & PAUL: https://www.youtube.com/watch?v=JPRpbDzEe6k
PENTECOST 5 – 5TH JULY https://www.youtube.com/watch?v=Asv-AooUx2I
PENTECOST 6 – 12TH JULY: https://www.youtube.com/watch?v=0KLSdRpI_sM
St MARY MAGDALENE 19th JULY https://www.youtube.com/watch?v=I6f_t_S0-fk
PENTECOST 9 – 2nd AUGUST: https://www.youtube.com/watch?v=af7vC-Jj8K0
PENTECOST 10 – 9th AUGUST: https://www.youtube.com/watch?v=qSuQJwRLlDw\
PENTECOST 11 – 16th AUGUST: https://www.youtube.com/watch?v=cVOvV6nkg0E
PENTECOST 12 – 23rd AUGUST: https://www.youtube.com/watch?v=kT0YL39xAlg
PENTECOST 13 – 30th AUGUST: https://www.youtube.com/watch?v=dStFGpLhCIQ&t=108s

PENTECOST 14 – 6th SEPTEMBER: https://www.youtube.com/watch?v=99fahrKtM1A
PENTECOST 15 – 13th SEPTEMBER: https://www.youtube.com/watch?v=plT4Ke4cQ3s
ST MATTHEW – 20th SEPTEMBER: https://www.youtube.com/watch?v=pTRv83yvRZU
PENTECOST 17 – 27th SEPTEMBER: https://www.youtube.com/watch?v=Z0YKnOS3k_o
PENTECOST 18 – 4th OCTOBER: https://www.youtube.com/watch?v=1dUkV_RenZg
PENTECOST 19 – 11h OCTOBER: https://www.youtube.com/watch?v=KwDozbccXjg
ST FRANCIS OF ASSISI – 18th OCTOBER: https://www.youtube.com/watch?v=_j_Hcqo35QI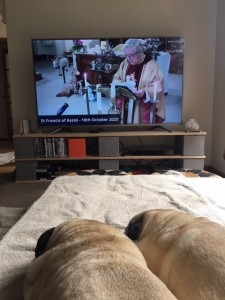 TWO ARDENT VIEWERS OF THE STREAMED
     ST FRANCIS OF ASSISI SERVICE 
PENTECOST 21 – 25th OCTOBER: https://www.youtube.com/watch?v=-QZxC16g11A
ALL SAINTS 1st :https://www.youtube.com/watch?v=DzbhC1jMhYw

PENTECOST 23 – 5th NOVEMBER: https://www.youtube.com/watch?v=0LwpRnBCgoY
NAIDOC – 15th NOVEMBER: https://www.youtube.com/watch?v=EfvCF045DhU
CHRIST THE KING – 222nd NOVEMBER: https://www.youtube.com/watch?v=kWrug3HGS1o
ADVENT SUNDAY – 28th NOVEMBER: https://www.youtube.com/watch?v=H55juwaBMRQ
ADVENT 2 – 6th DECEMBER: https://www.youtube.com/watch?v=M3JN4owcY3U
ADVENT 3 – 13th DECEMBER: https://www.youtube.com/watch?v=y007GjVYfkg
ADVENT 4  20th DECEMBER:  https://www.youtube.com/watch?v=w-yIpVZsR9w
CHRISTMAS EVE 2020: https://www.youtube.com/watch?v=7EfSCahgUwU
A Prayer
Keep us, good Lord,
Under the shadow of your mercy
In this time of uncertainty and distress.
Sustain and support the anxious and fearful,
And lift up all that are brought low,
That we might rejoice in your comfort
Knowing that nothing can separate us from your love. Amen.
May you find blessing and peace at this difficult time.
Dear Friends,
Yet another set of guidelines have been issued in response to the premier's latest easing of restrictions. We can now have 150 people in church at any given time but with strict adherence to the social distancing rules,-  this means of course that at Holy Trinity we can probably manage only about 40 worshippers at any given service. So you will not need to book for the 8 am service any longer and I think we try the 10 am without booking either. Sanitising on your way in to the building remains a priority, as do masks, and the recording of your name and telephone number, up until now I have been doing this for you but from now on there will be forms at the door where we ask that you record your name and telephone number using the a pen from the 'unused' basket and then putting it in the 'used' basket. As far as I can tell at the moment distribution of communion will remain as it has been with communion being brought to you, singing remains banned.
Sunday we hold our AGM which will be slightly different from years gone by because of the restraints placed on us by Covid 19 but the important thing is that we elect a Parish Council and have our reports presented.
Although much of this year has been difficult I think we can be thankful that Victoria now appears to be virus free and that we are on the way to something like normality, many parts of the world are not so fortunate.
Stay safe
Grant.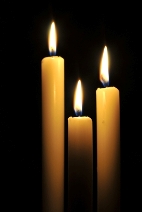 Lighten our darkness, Lord we pray, and by your great mercy defend us from all perils and dangers of        this night; for the love of your only Son, our Saviour Jesus Christ our Lord. Amen.
  Or 
Grant us, Lord, the lamp of charity which never fails, that it may burn in us and shed its light  on those      around us , and that by its brightness we may have a vision of that holy City, where dwells the true and      never-failing light, Jesus Christ our Lord. amen.
Services have now resumed.
You are most welcome to join us at 8 am or 10am or still view the 10 am service on Youtube
Worship at Holy Trinity each week
Sunday: 8am Eucharist; 10am Sung Eucharist and Morning Tea
Tuesdays at 5.30pm Christian Meditation Group
Wednesdays at 10am Eucharist followed by Morning Tea
Thursdays at 8.30am Morning Prayer and scripture readings followed by Meditation at 8.45am.
On the First Wednesday of the month the 10am Eucharist has an emphasis on healing with the opportunity of anointing.
On the Second Wednesday of each month the 10am Eucharist is held at Mercy Place Aged Care Facility
On the Third Wednesday of each month a 1.30pm Eucharist is held at Highgrove Aged Care Facility
Wednesdays Playgroup 9.30am – 11am (during school terms)
Parish Contacts
Vicar:  The Rev'd Grant Edgcumbe 193 Hotham Street East Melbourne
T: 9417 3341
Website: www.holytrinitymelbourne.org.au Email: office@holytrinitymelbourne.org.au
Vicar's Warden: Laurie Moore T: 9481-7335
People's Wardens:  Lynne Mitchell T:0412592005;
Sue Moses-Critchley 9486 3598
---
---
---