Dear Friends,
We celebrate 'Mothering Sunday' this Sunday which gives us the opportunity to think of and remember our mothers without the pressure and hype of the commercial Mothers' day later in the year. I am so lucky to have a treasure chest of memories of my mother as a strong, hardworking, pioneering, loving person with a wicked and quick sense of humour. I give thanks to God for her every day but particularly today. We think too today of the Church as our spiritual mother, nurturing us and encouraging us towards God. It was the practice in days gone by for people if they were able to return to the parish where they were baptised for the Sunday service as a special acknowledgement of the rebirth that baptism promises.
It has also been customary to bless and distribute flowers and simnel cake on this day and for the clergy to wear 'rose' coloured vestments as this Sunday is also known as 'refreshment Sunday' so the lighter colour indicates a little relaxation from the severity of Lenten discipline.
Happy Mothering Sunday to those of you called to this vocation and the happiest memories of those mothers who have died and the best possible wishes for those mothers still with us.
Grant.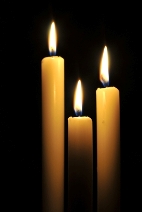 The gospel calls us to be people of Hope even in the darkest hour. Maybe you can find time to say an extra prayer for all those in such desperate circumstances in Australia and the rest of the world?
Our prayer for days ahead is for balance, consideration and listening
I offer you this prayer that hopefully you will find time to pray each day_
God of the nations, whose sovereign rule brings
justice and peace,
have mercy on our broken and divided world.
Shed abroad your peace in the hearts of all
and banish from them the spirit that makes for war,
that all races and peoples may learn to live
as members of one family
and in obedience to your law,
through your Son, Jesus Christ, our Lord. Amen.
The Australian Prayer Book.
 
EASTER SERVICES
Palm Sunday, 2nd April
         Eucharist 8.00am
         Eucharist 10.00am
(Procession from Fitzroy Gardens
to the Church)
Maundy Thursday, 6th April      
        Eucharist and Foot Washing 7pm
Good Friday, 7th April
       Liturgy 2.00pm
Easter Day, 9th April
      Easter Vigil and Lighting of the New Fire 6.00am
       Sung Eucharist  10.00am
---
Worship at Holy Trinity each week
Sunday: 8am Eucharist; 10am Sung Eucharist and Morning Tea
Tuesdays at 5.30pm Christian Meditation Group
Wednesdays at 10am Eucharist followed by Morning Tea
Thursdays at 8.30am Morning Prayer and scripture readings followed by Meditation at 8.45am.
On the First Wednesday of the month the 10am Eucharist has an emphasis on healing with the opportunity of anointing.
Wednesdays Playgroup 9.30am – 11am (during school terms)
Parish Contacts
Vicar:  The Rev'd Grant Edgcumbe 193 Hotham Street East Melbourne
T: 9417 3341
Website: www.holytrinitymelbourne.org.au Email: office@holytrinitymelbourne.org.au
Vicar's Warden: Laurie Moore T: 9481-7335
People's Wardens:  Lynne Mitchell T:0412592005;
Sue Moses-Critchley 9486 3598
---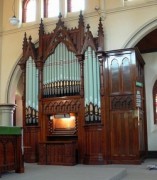 ORGAN RESTORATION FUND learn more…

---
---