Dear Friends,
What a truly wonderful liturgy last Sunday with masses of daffodils and just brilliant children here for baptism – thanks again to everyone who made the day so memorable – the extra good news is we have so far raised $720.00 for the Cancer Council – well done and thanks.
Today we are fortunate to have our 'Camelot' concert in the church at 2 o'clock – when I was a child we used to have what they called a 'PSA' or 'Pleasant Sunday Afternoon'.  Today will be one of those as we are transported to King Arthur's magical and wonderful kingdom.
Monday is the Annual Commemoration of Victory in the Pacific, when the forces of Imperial Japan surrendered and the Pacific became peaceful again – as we pause to remember let us pray that all of us, governments and people of the Pacific and other nations may remember the horror, futility and destruction brought about when one nation imagines it has the right to possess and conquer other nations.
Stay safe
Grant
Our prayer for days ahead is for balance, consideration and listening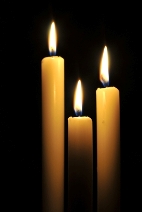 The gospel calls us to be people of Hope even in the darkest hour. Maybe you can find time to say an extra prayer for all those in such desperate circumstances in Australia and the rest of the world?
I offer you this prayer that hopefully you will find time to pray each day_
God of the nations, whose sovereign rule brings
justice and peace,
have mercy on our broken and divided world.
Shed abroad your peace in the hearts of all
and banish from them the spirit that makes for war,
that all races and peoples may learn to live
as members of one family
and in obedience to your law,
through your Son, Jesus Christ, our Lord. Amen.
The Australian Prayer Book.
---
Worship at Holy Trinity each week
Sunday: 8am Eucharist; 10am Sung Eucharist and Morning Tea
Tuesdays at 5.30pm Christian Meditation Group
Wednesdays at 10am Eucharist followed by Morning Tea
Thursdays at 8.30am Morning Prayer and scripture readings followed by Meditation at 8.45am.
On the First Wednesday of the month the 10am Eucharist has an emphasis on healing with the opportunity of anointing.
Wednesdays Playgroup 9.30am – 11am (during school terms)
Parish Contacts
Vicar:  The Rev'd Grant Edgcumbe 193 Hotham Street East Melbourne
T: 9417 3341
Website: www.holytrinitymelbourne.org.au Email: office@holytrinitymelbourne.org.au
Vicar's Warden: Laurie Moore T: 9481-7335
People's Wardens:  Lynne Mitchell T:0412592005;
Sue Moses-Critchley 9486 3598
---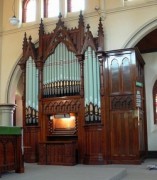 ORGAN RESTORATION FUND learn more…

---
---