Worship
Worship services have now resumed.   The Sunday Eucharist can also be viewed on Youtube.
Church Services at Holy Trinity East Melbourne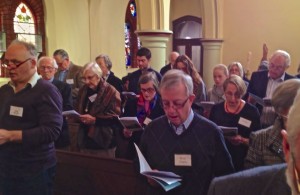 At Holy Trinity we offer a friendly traditional service.
The church is open every day of the year for quiet, prayer and rest. Opening hours are usually 9am to 4pm.
Please join us for one of our regular services.
They are as follows:
- Sunday 8am Eucharist
- Sunday 10am Sung Eucharist and morning tea
- Wednesdays 10am Eucharist and morning tea. On the second Wednesday of the month the service is at Mercy Aged Care, located at 22 Verona Lne (off Gipps St). Services on other weeks are held at Holy Trinity.
Visit our events calendar to see upcoming dates and other events at Holy Trinity.
______________________________________________________________________________________